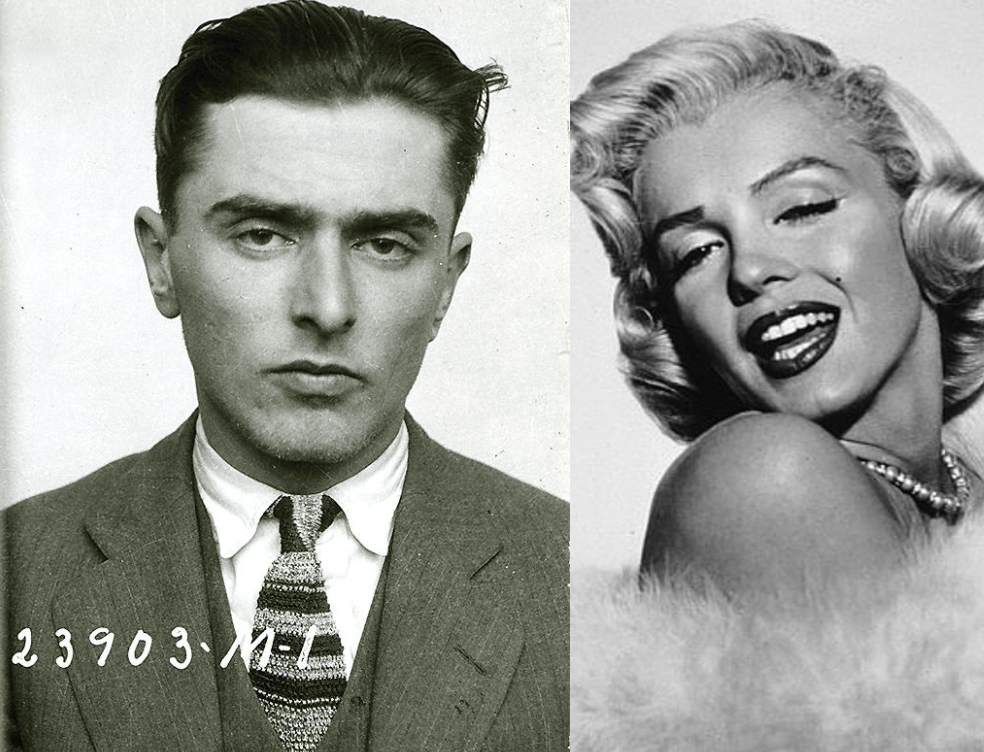 A one-time Hollywood producer who became a CIA assassin for hire at the height of the Cold War, Handsome Johnny Roselli could never be accused of living a sedate life. Sam Moore uncovers the life of this mysterious man.
He broke bread with Howard Hughes, bedded Marilyn Monroe and sipped whisky with Frank Sinatra under the neon decadence of Las Vegas. It was a long way from his birthplace in rural Lazio. 
Roselli was a man that was everywhere and anywhere. Enigmatic, charismatic and with a flair for the dramatic, if he wasn't real, James Ellroy would have invented him. He was a nomadic gangster in the early 1920's, racketeering, bootlegging and gambling his way across New York, Massachusetts and Chicago before settling in the Windy City under the prodigious eye of Al Capone.
His early story is not a remarkable one. In fact, it was pretty typical of a 1920's gangster. Prohibition made him rich, it made a poor immigrant into a tycoon as America's thirst for alcohol refused to dry up. The eighteenth amendment made America a gangster's paradise.
Born Filippo Sacco, it was during his time with the Chicago Outfit that he became John Roselli and was appointed as the organisation's point man on the amber hues of the Californian west coast. The move to Los Angeles enveloped him within the radar of Sicily native, LA kingpin and future Mickey Cohen nemesis Jack Dragna and the road became clear to imbed himself and the mob within the lucrative movie business.
Array
An enigmatic socialiser, Handsome Johnny was at home in Hollywood slipping into bed with the quintessential blonde bombshell Jean Harlow, frequently dining out with Tarzan creator Edgar Rice Burroughs and becoming a close friend of Columbia Pictures head honcho Harry Cohn who was the model for nefarious movie producer Jack Woltz in The Godfather.
It was through his relationship with Cohn that Roselli became a major Hollywood player in the pre-war years. He, along with his boss back in Chicago and Al Capone successor, Frank Nitti, wanted Hollywood gripped within their fist. The plan was simple. They intended to replicate the methods used in other industries such as truck driving and steelworks to take control of the powerful Hollywood labour unions and hold the bosses to a king's ransom.
Through brutish button man and fellow Chicagoan Willie Bioff the Outfit pocketed George Brown, the president of the International Alliance of Theatrical Stage Employees, which represented behind the scenes workers in film, stage and TV. The end game was to shake down every one of the major studios in exchange for labour harmony.
If the studios didn't pay, they would bring every film in production to a blunt halt with industry wide strikes. Millions was siphoned off from MGM, Warner, Columbia, there wasn't a studio that could resist the rule of the mob – if the cameras weren't rolling then the punters weren't spending and there was so much money swirling around in late thirties Hollywood that the titans of industry paid up without being put under too much duress.
The likes of Cohn and rival Jack Warner were simultaneously scared of and enthralled by the flash dressing, gold watch sporting gangsters that now served as their ultimate puppet masters. A motif throughout Martin Scorsese's masterful epic The Irishman is the diamond encrusted signet ring gifted to Robert De Niro's war-scarred hitman by Philadelphia crime boss Russell Bufalino – the diamond-encrusted piece of jewellery represents brotherhood, it ties the men to each other, the ring means favours could not be declined and orders had to be obeyed.
Cohn and Warner proudly wore similar rings bestowed on them by the Mafia bosses that had muscled a takeover of the so-called Hollywood dream factory. The movie bosses had sworn away their ability to say no.
Roselli's close relationship with Cohn, who himself had a reputation within the industry as a tyrannical boss and abusive predator with an affinity for Mussolini, directly brought part of Columbia under mob control. Jean Harlow's one time boyfriend was New Jersey mobster Abner Zwillman, partner of Lucky Luciano and Meyer Lansky.
When Cohn needed funds and quickly to buy out his terminally ill business partner and co-founder of Columbia Joe Brandt, Roselli pointed him to Zwillman who facilitated the cash for the takeover in exchange for a secret and silent slice of the studio pie. Zwillman held control over Cohn until his mysterious death by hanging in 1959.
Roselli and Bioff did not take a quiet approach to the successes of gangsterdom. The millions that were flushed straight from studio coffers into their pockets went out nearly as quickly on life's fineries. Newspapers and the police were simultaneously looking at organised crime activities in Hollywood and it would be the fascistic, union bashing Pulitzer Prize winning journalist Westbrook Pegler who would break the story of corruption and the mob's control of the IATSE became an open secret.
In the midst of war, indictments followed. In the winter of 1942, Roselli submitted himself for service in the US Army but he would be arrested just three months later for extortion and racketeering. Joining him in the dock was Nitti, Bioff, Brown and a whole host of other members of the Outfit including future boss Paul Ricca. Bioff turned witness and Ricca and the rest of the Chicago leadership put pressure on Nitti to plead guilty to save the rest from prison. The result was Nitti, a severe claustrophobic, putting his revolver to his head instead of doing another term in prison. Bioff met a snitch's end, blown to pieces via car bomb.
Prison should have put Roselli's Hollywood exploits in an early grave but he wasn't done yet. Sentenced to ten but serving less than four, he was out on parole and in need of legitimate work landed a job under old friend Bryan Foy at Poverty Street B-movie studio Eagle-Lion Films. He could have been a short order cook or cab driver (on paper anyway) but the seduction of Hollywood's bright lights was too much to move on from.
While officially an associate producer, Roselli's name was purposely kept off the credits but he played an integral role in consulting on and producing noir films for the minor if prolific studio before it was sunk with debt in 1948.
… Roselli['s] … gregarious personality was made for show business …
Whilst Roselli did love the glamour of the movies and his gregarious personality was made for show business, there were also more realistic reasons why he was so hands on as a producer – the extortion trial had been kissed on headlines across the country and his name had been listed next to some of the most notorious and powerful crime figures in America – the FBI were hovering for any excuse to slam him back in jail. When they inevitably came knocking, he had to look legitimate.
Films which Roselli is known to have worked on include the Anthony Mann directed T-Men and Raw Deal as well as He Walked by Night which starred the great Richard Basehart as a fictionalised version of Erwin Walker, a psychologically damaged World War II veteran who went on a mass crime spree upon re-joining civilian society.
These three hyper-realistic, bleakly nihilistic crime flicks owed a lot to Roselli's experience and knowledge of the underworld and were startlingly successful at the box office, an outlier given most of Eagle-Lion's films lost money. Foy and Roselli had carved out a niche for themselves – small, realistic gangster films unafraid to look away from the nastiness of crime – but the production company's financial woes prevented them from having any kind of extended partnership. Eagle-Lion owed the Bank of America more millions than it had and closed its doors before the end of 1948.
Roselli was out of a job and his influence over Hollywood was dead.
Hollywood had made him wealthy beyond imagination, it had made him famous, it had led him to the beds of the most desirable starlets of the age and ultimately it defined his urge to be close to celebrity. 
Los Angeles was swapped for Las Vegas and it was revealed many years later at the inquest into John F Kennedy's assassination his official job was as a producer for Monogram Pictures but his real business was as Chicago's man in the desert overseeing the skimming of the casino business.
The rest of his life was spent in the upper echelons of crime. Along with Sam Giancana and Santo Trafficante, he was tasked with ending Fidel Castro's life after the Cuban Revolution closed down the mob-owned casinos and drove the Mafia from the country. He was also a person of interest in the assassination of JFK, who used his own mob connections to get elected in 1960, mob connections he turned his back on upon ascending to the presidency by allowing his brother and Attorney General Bobby to wage a war on organised crime.
Though Roselli lived to see the uncommonly old age (for a gangster) of 71, he couldn't escape a grisly demise. In 1975, he testified before a US Senate committee investigating CIA plots to assassinate Castro as well as the death of Kennedy. He was distinctly open about being recruited to find ways to kill the revolutionary leader, all of which failed.
His old boss Giancana had already met a bloody end the prior year and the murder occurred mere days before he was supposed to testify to the same committee. In total, Roselli spoke to the committee three times but he never made a fourth. He was summoned but never appeared. The body of Handsome Johnny Roselli was found some weeks later decomposing in an oil barrel off the coast of Miami, a long way from the heights of Hollywood.
---