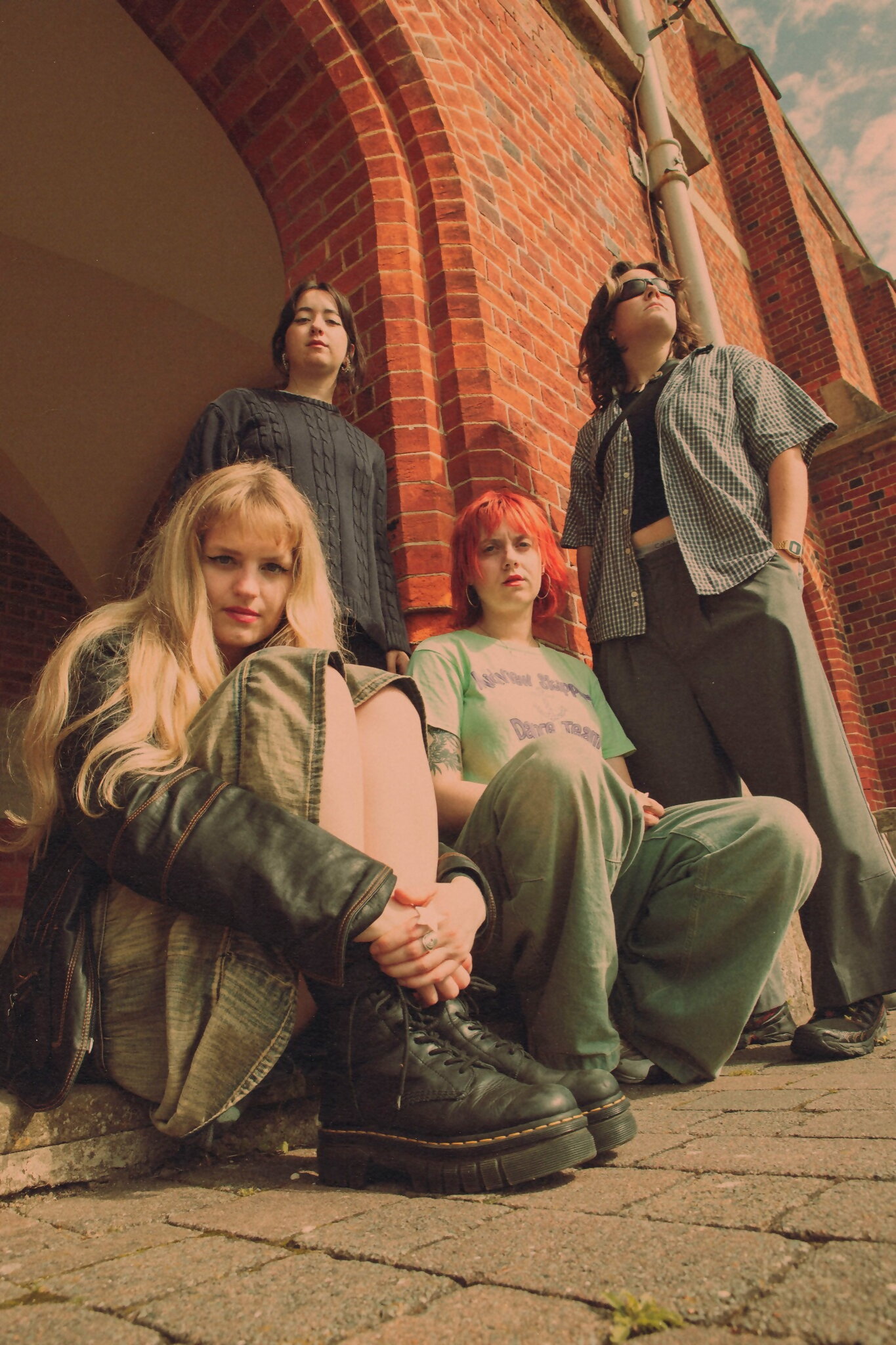 Brighton's indie-electro band Lime Garden is set to take 2024 by storm with their debut album One More Thing and a headlining UK & EU tour.
---
Lime Garden continue their ascent through the UK indie scene with new single 'I Want To Be You'. And it's a banger. Watch the video for it below…
This track heralds the coming of their impending debut album One More Thing, dropping on 16th February 2024.
And guess what? They're also hitting the road for a UK and EU tour that's set to charm the nation, just like they did us when we interviewed them way back in 2021!
---
READ MORE: Down the Boozer with Lime Garden
An indie band! In a Shoreditch taphouse! What could possibly go wrong? Jake Denton went for a tipple with Brighton's Lime Garden (Tippi, Chloe, Leila, Annabel) to find out. 
---
So, what's so special about 'I Want To Be You'? Lead singer Chloe explains: "'I Want To Be You' was inspired by a very specific memory I have as a 14 year old at my first gig looking at the band playing and thinking, 'do I want to be you or be with you, or do I want both?'."
Meanwhile, Lime Garden's EU tour includes some great spots like Barcelona's Vida Showcase and Rotterdam's Motel Mozaique. And for the home crowd, their UK tour is kicking off on 27th February at YES (Pink Room) in Manchester, winding up at Chalk in Brighton on 8th March.
See Lime Garden live in 2023/24:
27 Feb | YES (Pink Room), Manchester
28 Feb | Voodoo Rooms, Edinburgh
29 Feb | Hug & Pint, Glasgow
2 Mar | Workman's, Dublin
3 Mar | Brudenell Social Club, Leeds
4 Mar | Hare & Hounds, Birmingham
6 Mar | Fleece, Bristol
7 Mar | Lafayette, London
8 Mar | Chalk, Brighton
14 Mar | Vida Showcase @ Antigua Frabrica Damm, Barcelona
18 Apr | Paradiso Upstairs, Amsterdam
19 Apr | Motel Mozaique Festival, Rotterdam
20 Apr | Molotow, Hamburg
21 Apr | Kantine am Berghain, Berlin
23 Apr | Strom, Munich
24 Apr | Bogen F, Zurich
25 Apr | Kesselhaus, Wiesbaden
26 Apr | Trix, Antwerp
27 Apr | Hasard Ludique, Paris
Again, to reiterate, Lime Garden's One More Thing is out on 16th February 2024 on So Young Records. Here's the track listing:
1. Love Song
2. Mother
3. Nepotism (baby)
4. Popstar
5. Pine
6. I Want To Be You
7. Floor
8. Fears
9. It
10. Looking
---