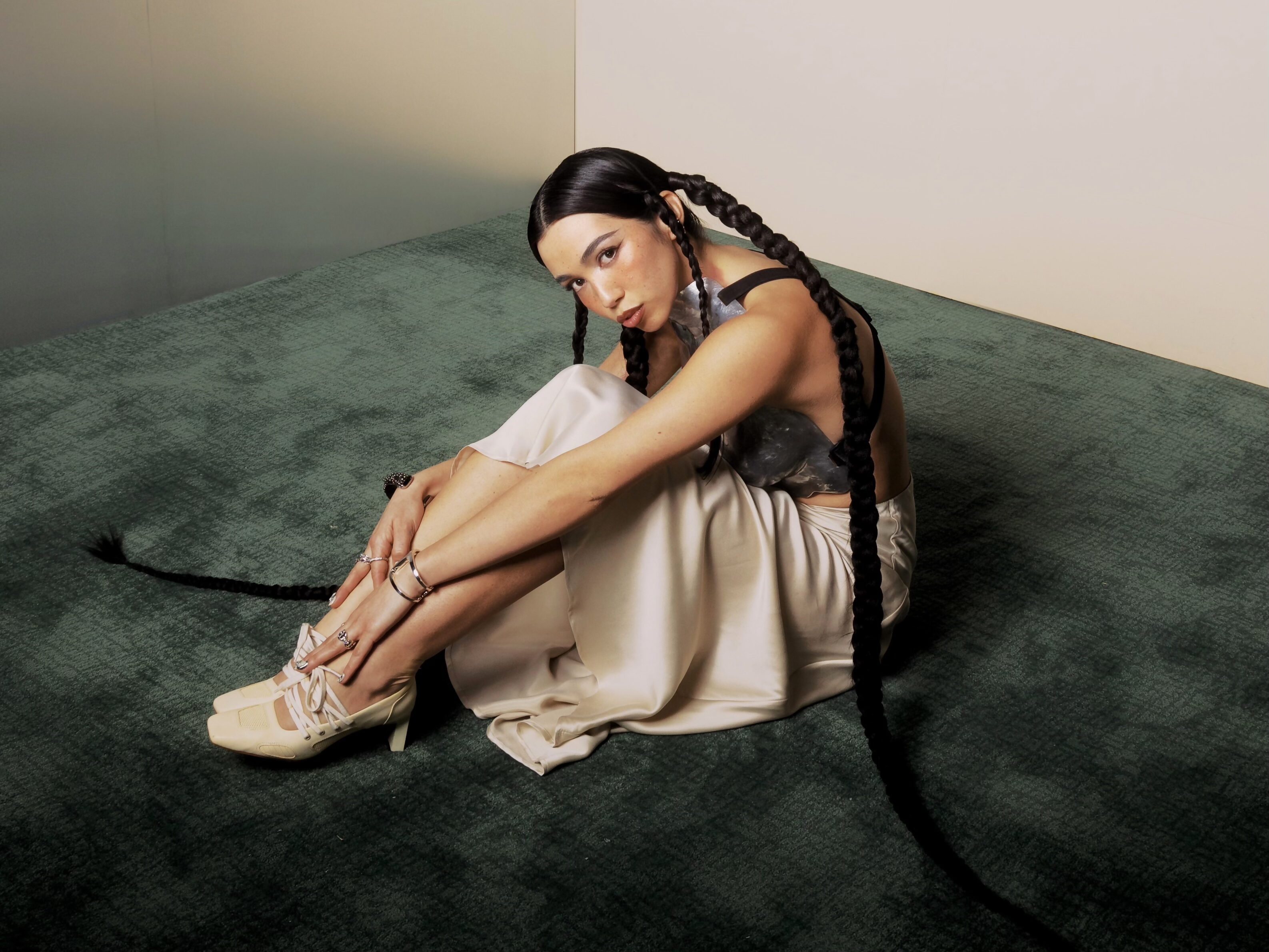 Wallice discusses her touring experience with The 1975, her brand-new EP, Mr Big Shot, and the reality of fame from her unique Los Angeles perspective.
---
Wallice is in her car en route to rehearsals when we speak. She's approaching a month-long tour of the USA, and just days ago, she returned from the UK, performing a handful of headline shows in Europe, Asia and Australia with The 1975. And before that, she toured the US with JAWNY. Between all that, she's been preparing to release her third EP, Mr Big Shot, and squeeze in conversations and promotion where she can during her few days' pause.
At home in Los Angeles until the beginning of her tour, which is less than a week away when we speak, Wallice seems anything but tired after her global excursions. Instead, she radiates excitement, inspired by recent achievements: "It's my first arena. And it was amazing. They're 22,000 capacity compared to the 100 to 1,000 person capacity I usually play. I feel confident with how it translated; we worked with a musical director before we went to the first show. I still think it's wild I've ever played that big of a show until now. At first, I was so nervous, obviously. But then, it's just another day at the office."
---
READ MORE: Blondshell: 'I have more of an idea of my self-worth than I did before'
---
Wallice's Dirty Hit labelmates The 1975 are a stellar example if you're putting on an arena show, so she was in excellent company for her inaugural run. Though she's not yet aiming to build houses and give micromontages of cerebral performance art, Wallice is brimming with takeaways. "I respected that they changed the setlist every night in their shows; it was a unique experience every night by the things [Matty Healy] does on stage or changing the setlist for like a hundred shows!" Wallice raves about the band's work ethic, committing their entire back catalogue to memory and the range they deliver.
For an artist who makes such dreamy, escapist music with such vivid characters and bright vignettes, it may be surprising that Wallice is very practical. What she's taking away from playing with The 1975, her musings on fame and celebrity culture, having grown up in L.A, are her reflections on her own music and future directions. She's excited and optimistic, but her head is firmly on her shoulders. Wallice is realistic, not overly disenchanted by the industry nor wildly, obsessively fame-hungry.
"Growing up here, from a young age, you can see fame as attainable because that's what you do," Wallice says, "I've seen people become famous. Your classmate's mum will be a famous actress, or your friend's neighbour will be a musician. It was never like like, 'How do they do it? How do I get there?'" 
So has growing up with a view of fame as everyday, rather than some soaring elite, changed how Wallice feels about finding the success she's worked for? Though she may seem better prepared on the surface, the magic is still there. "I don't think I have that level yet," she explains, "which is fine! But I still think it's overwhelming. I still think it is really cool, but it is a bit of an easier transition."
---
READ MORE: From S Club 7 to Central Cee | Why was 90s music so happy compared to now?
---
Overtly or metaphorically, Wallice's music is preoccupied with analysing and considering how others perceive her – as, to be fair, most people in their early twenties are. The elevated, sparkling lens of her previous EP 90s American Superstar imagined Wallice at the heights of success: grungy, petulant longings to be rich, an imagined funeral with partying mourners, a self-casting in every Hollywood coming-of-age flick.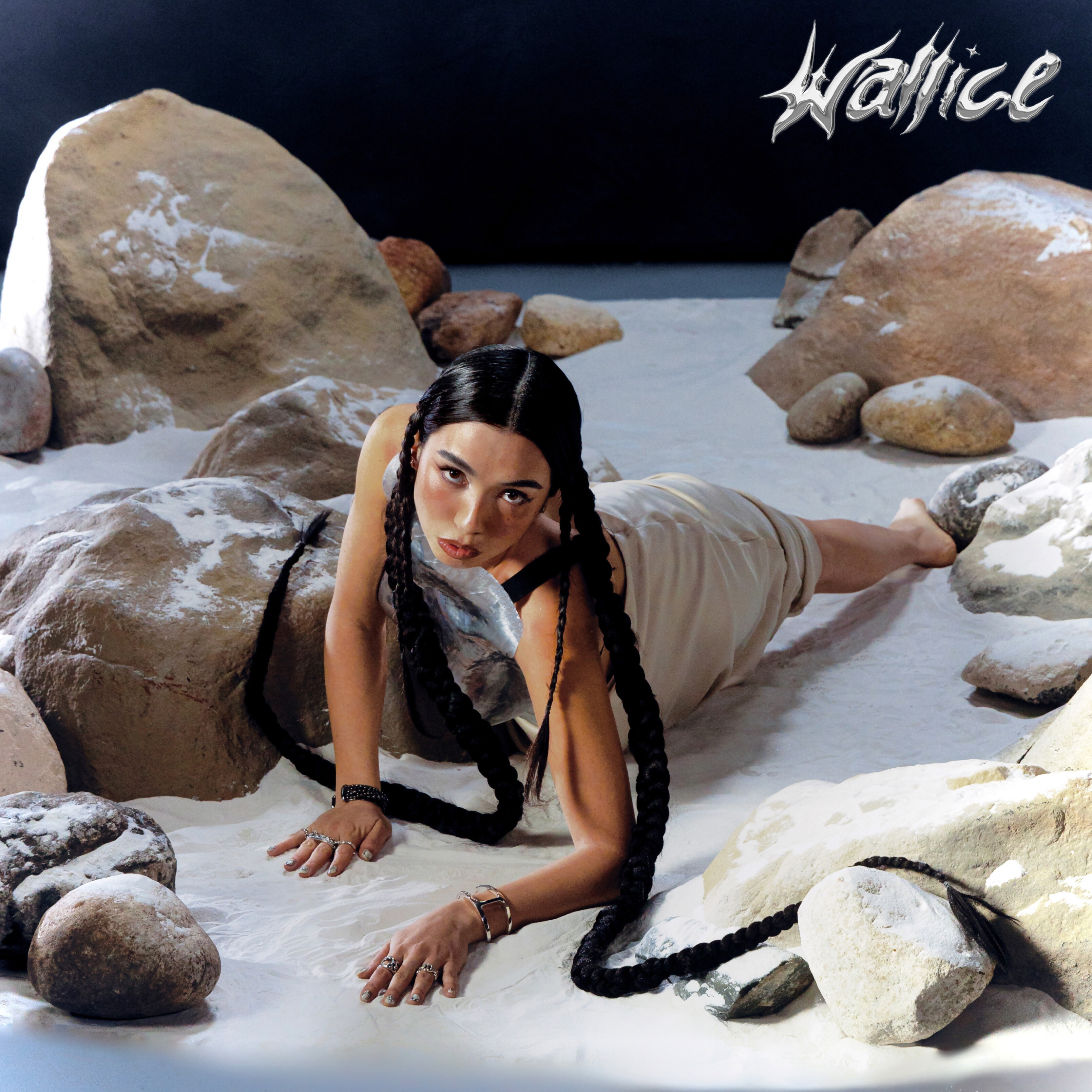 Now, on Mr Big Shot, the sheen is a little less glossy with a little more intimacy, vulnerability and realism. But the titular 'Mr Big Shot' comes from a line that's still a critical introspection from Wallice to herself in a track named 'Quarterlife', which reflects on the genuine complexities of growing up, and turning 25 in an industry favouring the young.
"It's funny to think, because that's not an old age. In entertainment, music, there's always new 16- and 18- and 20-year-olds that are much more successful, just on paper. It's so easy to compare myself to them or compare myself to my peers who might be doing better. 90s American Superstar didn't technically have the same success as [debut EP] Off The Rails, only because I wasn't this new artist. It's hard not to compare my career's success based on a Spotify graph."
What does success look like for Wallice, then? "When I actually think about it, and I take away the numbers like I am genuinely reaching an audience," she reflects. "When I opened for The 1975, it was connecting with people who've never heard the music before, them singing or coming up to me and saying I've never heard you before, but I don't know how because I loved all your music, or this song specifically. That is successful. I don't know…"
She doesn't have clarity yet – but transparency isn't what she's searching for. Wallice is creating connections, expressing universal truths, coming-of-age, and working with brilliant musicians to make bright, evocative music. That sounds like success for now. 
---