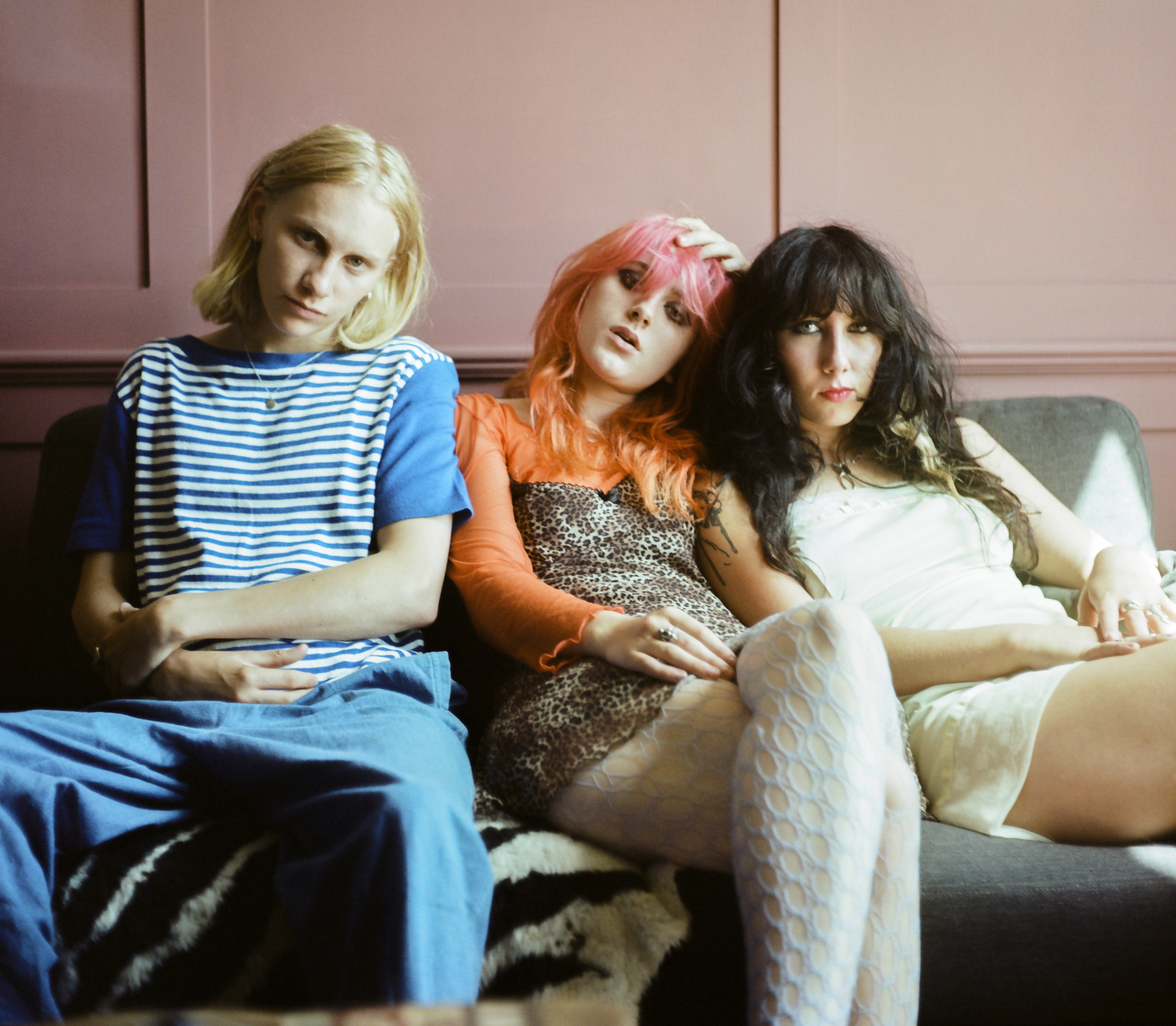 HotWax are huddled in the back of a van. Later on tonight, they'll play a chaotic gig at Manchester's The Peer Hat before heading to Leeds for more of the same. Then it's back down south for a hometown show in Brighton.
It's a lifestyle that's fast become the norm for Tallulah Sim-Savage, Lola Sam, and Alfie Sayers, otherwise known as HotWax, after spending years playing nothing but local shows along the south coast.
After dropping grunge party-starter 'Treasure' in January, HotWax were regularly championed as one of the most exciting new bands in British rock.
They've spent the summer showing people why. There have been appearances at festivals like The Great Escape, they've supported childhood heroes Yeah Yeah Yeahs at All Points East, and they headlined the BBC Introducing stage at Reading & Leeds.
Then there's the brilliant debut EP A Thousand Times, released in May, featuring breakout track 'Rip It Out' and perfectly capturing HotWax's energetic spirit.
"It's been really, really full on and busy, but obviously super fun as well," Tallulah explains, with Lola adding: "We've done a lot of things for the first time this year, and it's all gone really well. Hopefully, it just keeps going that way."
Tallulah and Lola first connected as pre-teens when they were part of a school band curated by their music teacher. They went on to spend their teenage years in various local bands together and, while the sound and style of their endeavours may have shifted, their bond remained true.
"Me and Lola working together has always felt really right," says Tallulah.
"It's nice to know you have that person you can trust completely," Lola adds. "Even if we disagree on stuff, we end up making it work. It's always better than what you would have done by yourself as well."
The band started playing shows as HotWax in 2019, and Sayers joined the band at the start of 2021. "It really feels like everything has slotted into place," explains Tallulah.
Lola grew up listening to Foo Fighters, Rage Against The Machine and the "fuzzy basslines" of Muse to inspire her own guitar playing, while Tallulah was put onto heavy music by her mum playing her Yeah Yeah Yeahs, Hole and Blondie in the car. Alfie, meanwhile, started drumming along to Nirvana's Nevermind and hasn't looked back since.
The immediate outlook is promising for HotWax as well. Their second EP, Invite Me, Kindly, came earlier this week, a snarling, swaggering burst of scuzzy guitars and infectious hooks. It's the perfect record for their stint supporting Royal Blood at sold-out shows across the UK and North America.
---
READ MORE: How Royal Blood threw the least rock n' roll temper tantrum
---
Considering all the expectations around HotWax, the trio understandably feel pressure about the release of Invite Me, Kindly. "There's always pressure, especially ahead of going out on tour with an established band like Royal Blood, who we've always looked up to. For many people, this will be their introduction to us," says Lola. "There are so many great bands at the moment. We really have to put our all into everything we do.
"We're pretty confident about the actual shows," Lola continues. "We're just nervous about making every night feel fresh and interesting. We've never done an actual tour before, so we want to make sure we don't get burnt out, or the quality of the gigs suffers. Playing live is what we love doing, though, so I'm sure it'll be really good."
"The songs from the new EP feel really good to play live, which will help," adds Tallulah.
View this post on Instagram
Inspired by the likes of desert rockers Queens Of The Stone Age and Jack White, HotWax's Invite Me, Kindly is an evolution of what's come before. "It's more raw," explains Lola, with the guitars very much at the forefront of the record. "It's still very us though".  This is evident in how quickly the songs came together in the studio. "Yes, there were moments of stress, but everything happened naturally."
"We've been playing way more gigs than we ever have done before, and seeing people react to your music in real-time has been really inspiring. We were writing the sort of songs we wanted to play," Tallulah adds.
As for the lyrics, Invite Me, Kindly builds on the coming-of-age angst that HotWax explored with A Thousand Times. "It's about growing up and figuring out relationships. It's about letting go of anything that's made you feel rubbish," says Tallulah, with a mix of frustration and self-acceptance.
Raucous opener 'High Tea' is a freeing track, with lyrics like "I'm spitting out all my doubt" designed for snotty catharsis while the twisting psychedelia of 'Phone Machine', the venomous 'Drop' and the groove-driven hammer of 'E Flat' feel like a purge. Elsewhere, the closing 'She Don't Like It' flickers between beauty and fury.
---
READ MORE: ★★★★☆ Haim at All Points East review | A soaring celebration that felt like a homecoming
---
There's tension and release throughout the record. "Writing music about things that have happened to you is very therapeutic," explains Tallulah. "Playing it live adds another layer of therapy, too." That upfront honesty comes from years of HotWax providing a safe space for its members.
You can hear nods to the bands that first inspired HotWax across their back catalogue, but the familiar is regularly twisted into new shapes. "I think a lot of people find our music nostalgic. We get compared to those '90s grunge bands, but we're just putting out whatever we want," says Lola, who struggles to place HotWax into a single genre.
"I don't think we really know where we fit, but that's what we want. I feel like once you've decided exactly what you want to do with your music, that's when it's going to stop being exciting for you and everyone that listens. Hopefully, it's a nice mix of what's come before and something new."
"We all think about music quite differently, but we just really trust each other," adds Tallulah. "It means there's a lot of different sounds or influences that we can play with."
"Because we've been best friends for so long, it feels like we've created our own world between us," continues Lola.
HotWax released their first song 'Stay Cool' in 2020, a garage rock number that saw Lola on drums and Tallulah on guitar and vocals. "We put on matching outfits, and we pretended to be another band," Tallulah says. "We wrote it as a joke to begin with. I don't know what our ambitions were beyond playing music together."
Growing up in Hastings, Lola and Tallulah were part of the town's blossoming creative community, playing regular gigs in local pubs and working with the various photographers and videographers that call Hastings home. "We had the bands we adored and the bands we played with," says Tallulah, with no in-between to make a full-time career in music seem possible.
At the same time, rock in general was struggling to stay relevant. "At school and college, we didn't know many other people who were into guitar music either," she continues. "People were horrible to us and thought it was really weird we were in a band.
"If anything, it made us feel like no one was going to like what we were making, and there was a definite sense of 'what the hell are we doing'. We obviously carried on anyway," she laughs. It's where HotWax's tightly knit, defiant spirit comes from.
Now, though, the band are part of an interesting, exciting resurgence in British rock alongside the likes of The Last Dinner Party, Picture Parlour, Panic Shack, English Teacher and Mary In The Junkyard. "It's so cool to be part of, especially because so many of the bands feature women," says Tallulah. "Hopefully, HotWax can represent just being yourself and doing what feels right in your gut."
2023 has changed everything for HotWax. "Before, we didn't really know if we were actually going to be able to do it," says Tallulah. "Now, we're more determined than we've ever been."
"The successes have lit a fire under us. We've gotten a taste of doing the band full time, and now we never want it to end," adds Lola, with the band starting to talk about its debut album. Because of their hectic schedule, HotWax have only managed to get down a few loose ideas for their album, and their six-week tour with Royal Blood isn't making things any easier.
"We just want to write an album that we're really proud of and feel is artistically very honest," starts Tallulah before Lola adds: "I guess we'll have to do it on the road."
---
Want to write about music? Pitch us your ideas.
Are you passionate about music and have a story or hot take to share? whynow wants to hear from you. Send your music-focused pitch to editors@whynow.co.uk. Let's make some noise together.
---