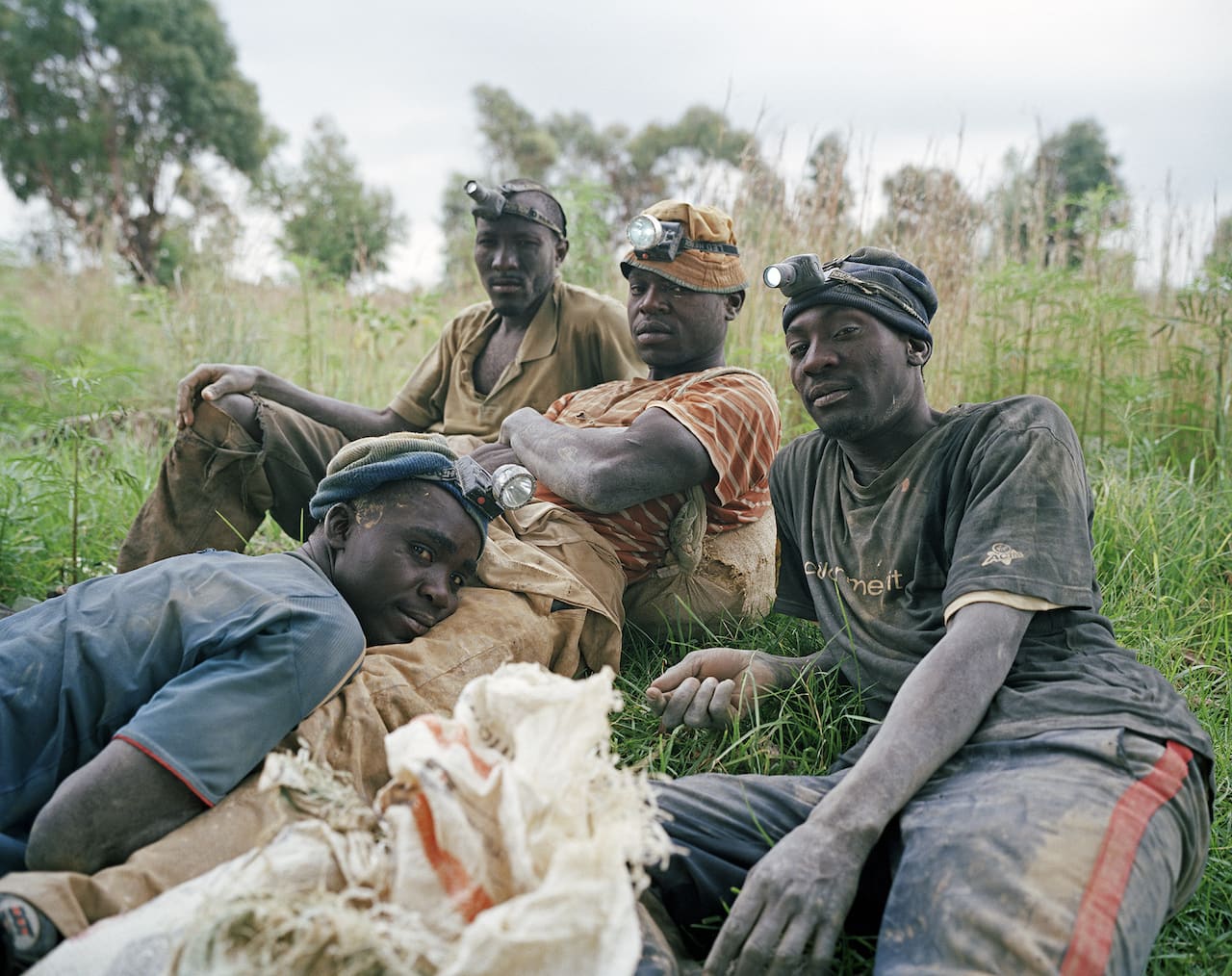 Welcome back to our photography series, Far-Flung. Eva Clifford is speaking to the best landscape and wildlife photographers from all over the globe about the vistas that have charmed and thrilled their lenses. 
For the seventh trip on our Far-Flung adventure, we descend into the perilously dangerous gold mines of South Africa. Johannesburg-born photographer Ilan Godfrey documents the risqué endeavours of the local amateur miners, the 'zama-zamas', who dance with death in order to cash in on the world's growing demand for precious metals.
The sun blazes against your skin as you make your way to the entrance of a disused ventilation shaft. Inside, there is nothing but darkness and distant echoes. You think of the countless men who have fallen to their death climbing this shaft, as you descend deeper and deeper into the mine. Once you reach the end, the light from your head torch illuminates the spectral figures of workers digging for gold in miserable, perilous conditions underground. Here you might remain for six months to a year, only emerging for food. Occupational hazards include running out of oxygen, inhaling toxic dust (which can lead to silicosis, a fatal lung disease) or the walls caving in at any moment – but you remember you're doing this for your family. 
Occupational hazards include the walls caving in at any moment – but you remember you're doing this for your family. 
For many in South Africa, this is a reality. It's estimated that 14,000 people are involved in unregulated, illegal operations across the country, fuelling an industry worth around six billion rand ($566 million).  "For more than a century, South Africa has been associated with mineral wealth, both in diversity and abundance," says photographer Ilan Godfrey, whose project 'Legacy of the Mine' examines the lasting impact of the country's mining industry.
Array
S and M Supermarket and General Dealers, Meyerton, Gauteng, 2011: In addition to the Witwatersrand, gold was also discovered in 'Black Reef', which runs along the banks of the Klip River, a tributary of the Vaal. The town of Meyerton was officially proclaimed on 6 June 1891. It now has a population of 12,000.
"The demand for gold, diamonds, coal and platinum has gone from strength to strength, often shifting in accordance with the political economy and availability of foreign markets. As a result, this has played a major role in South Africa's development, infrastructure and job creation." Once pivotal in shaping Africa's most advanced and richest economy, the formal mining industry has faced a decline in recent years. Former prosperous mining towns have become ghost towns and environmental degradation has polluted the soil and water, endangering the health of local communities.
Growing numbers of informal miners – known as 'zama-zamas' – undertake back-breaking work, risking death deep underground in abandoned mine shafts or on the mine dumps that litter the surface.  "Made up of foreign nationals and South Africans, the men and women who rely on these practices for a living wage to provide for their families, are due to the economic hardships found here at home and abroad," says Ilan.
"These communities are skilled in the pinpointing of gold-bearing deposits and the final extractions processes needed to produce small quantities of gold for the black market. There are an estimated six thousand officially listed derelict and abandoned mines that lie dormant across South Africa – five times higher than the number of operational mines." 
There are an estimated six thousand officially listed derelict and abandoned mines that lie dormant across South Africa…
For Ilan, who grew up in Johannesburg, the mines were a constant background presence but it was only later in life that he learnt the true consequences of the industry – both on the land and its inhabitants. Since then, he's invested years of time and research into exploring this legacy and revealing the forgotten communities that the mining industry has left behind.
In the early days of the project, Ilan visited areas on the peripheries of Johannesburg which bear the remnants of gold mining activity. "It was in these hidden locations off the main highway arteries, often fenced off and overgrown with invasive Eucalyptus trees, that I would find small groups of people actively digging and sifting soil in search of gold," he says.
One of those towns was Meyerton. Located on the banks of the Vaal River, the area is historically known for its 'Black Reef' – a vein of gold that ran through several farms. Here, Ilan was approached by a man who asked him what his business was. Once Ilan had explained, the man opened up. 
"He went on to disclose the impacts of burning dirty coal for cooking and warmth and as a result, believed his son's growth was stunted due to the inhalation of these toxins," says Ilan. "It was at this point I had a realisation that the project was not solely about the remnants of gold mining and the environment, but also its long-term health implications."
Venturing further afield, Ilan discovered a new form of activism taking shape in South Africa, not one of a political nature but one driven by environmental concerns. 
"With the ongoing support of these environmental activists and community leaders, I was able to reveal the human cost of mining on various communities, their environment and health," he says. "My travels on the open road allowed me to personally engage with people, who revealed untold stories that exposed so much more than what I was reading in books. This resulted in me taking time to understand the complexities of the varied issues being shared, thus spending several weeks and months visiting communities that I was collaborating with." 
Ilan's resulting work encompasses the multitude of stories within the larger picture, from the firsthand accounts of mistreatment by mining operations, to occupational health issues and unemployment as a result of mine closures. "[These stories] were all-important layers within the context of the project that needed to be unravelled and fully understood," explains the photographer. "Even though it is evident that a project of this nature is far-reaching and covers a large expanse of the South African landscape, it is tied together through microcosms of visual narration of untold stories forgotten by the larger economical machine that is the mine."
Collaborating with activists and community leaders, Ilan was able to access the closely guarded places where informal mining takes place. Zama-zamas can expect to get approximately $30 in exchange for one gram of gold. But their work carries deadly risks. "With each mineral that I explored across the country – either gold, coal or diamonds – the 'informal' extraction processes varied, however the risks always remained the same," Ilan says. 
Life for these miners can often become violent, as they fight for the best digging positions.
"Health and safety regulations are nonexistent, oxygen underground is limited and there is the constant risk of being caught for illegal mining or the shafts collapsing. Life for these miners can often become violent, as they fight for the best digging positions. "I believe many people are aware of the risks, whether it be related to their health or the dangerous environment they find themselves in, however the rewards, although limited, outweigh the risks when you have no other choice." 
Array
Sylvia Mlimi, Angel Mona and Setty Mndawe with dirty coal collected on Coronation Colliery. Collecting coal is a daily necessity and is fraught with danger, especially when the ground collapses while digging. People from the Likazi informal settlement have died as a result.
Within informal mining practices, mercury is frequently used in the final extractive process to draw the fine particles of gold from the ore and can cause serious health issues – particularly in pregnant women, who are generally responsible for this work. Another threat is silica dust, which if inhaled can lead to internal radiation due to the high levels of uranium present in its particles. 
"The daily struggles of men like Linda Ndlovu, Daniel Mandlo, Dumisani Mahlangu and Calvin Sibanda, all Zimbabwean by birth, whom I photographed resting after a full night of work in a disused underground gold mine shaft, epitomises the conditions in which these men work," says Ilan. In one image an emaciated man looks directly into the lens, propped up against an ornate pink-cushioned headboard. From the caption we learn he is a silicosis victim, a stark reminder of how insidious the effects of mining can be.
"From a legal mining point of view, Mahlomola William Melato's story reveals in many ways the true cost of giving one's life to the mining industry," says Ilan. "In 1986, Mahlomola began an apprenticeship at the Harmony Gold Mine in Welkom as a boilermaker. After completing his apprenticeship in 1990, he became a teacher but returned to the mining industry in 2007.  In 2008, he was diagnosed with tuberculosis and in 2010 with silicosis, previously known as 'miner's phthisis', and was laid off from his job. He said: 'Young men who started on the mine as an apprentice did not know the risk of TB and silicosis. If I knew the risks involved I would not have worked in the mines.'"
Ilan also notes that benefits are not always equitably shared, and local communities closest to the source of the mineral development can suffer the most. "Mines do provide jobs in economically marginal areas, but the opportunities are limited," he says. "Communities that come to depend on mining to sustain their economies are especially vulnerable to negative social impacts when the mine closes."
Through his long-term, multilayered approach, Ilan draws attention to both the immediate and ongoing effects of the mining industry, as well as the way it permeates every aspect of society in these regions. "At every stage in the project's development there were new and interesting aspects of the story that needed to be told," he says. 
For me it is more a collaborative process; the portraits I make and the stories I share reveal various intimate and important insights into these communities and individuals' lives and challenges; there is a willingness and need to have their stories told. By sharing these stories with a wider audience, I hope that people gain further insights into the extractive sector that on one hand is an important economic driver for the country, yet on the other unsustainable and in many ways detrimental to those living on the peripheries."
---