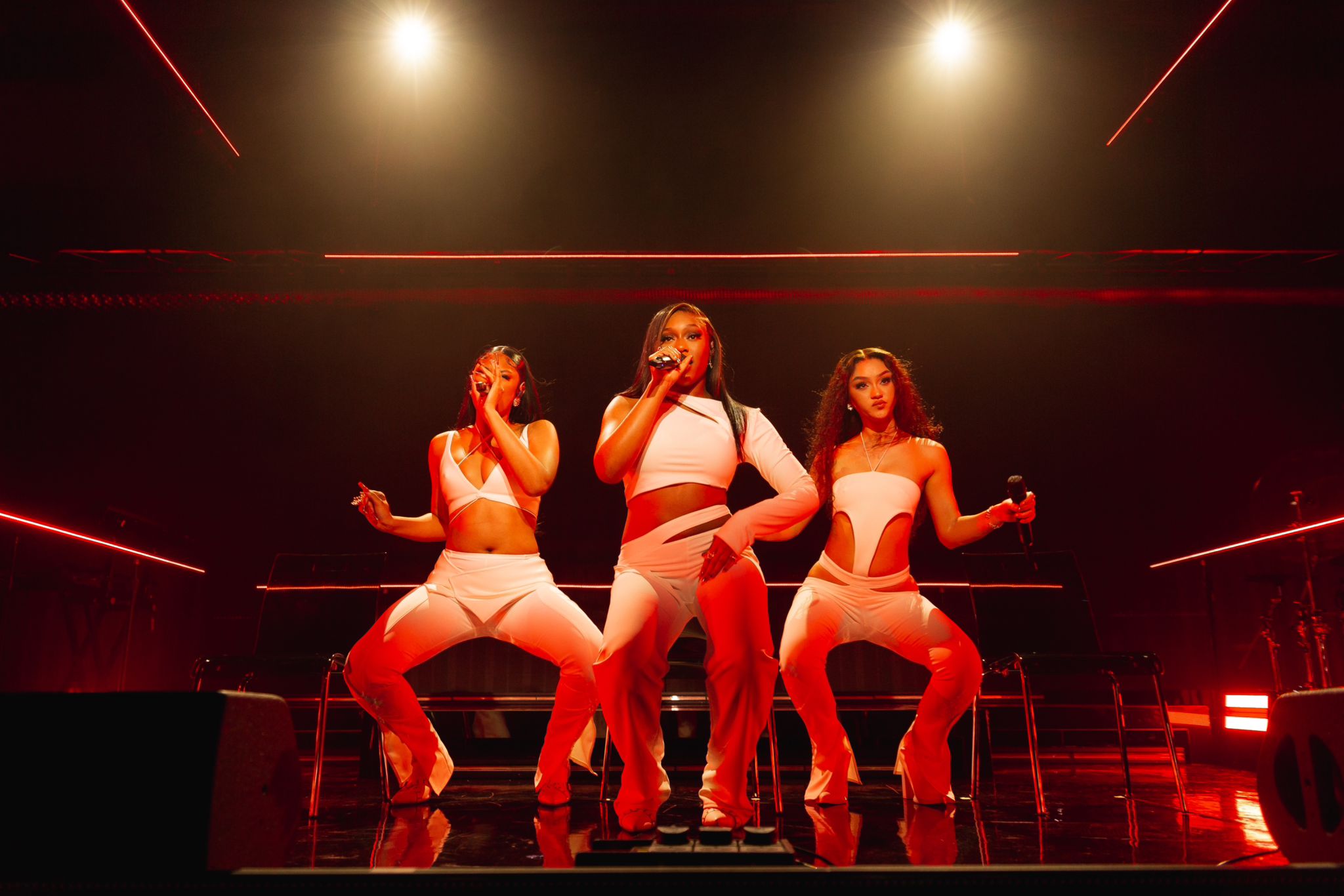 Since the output of the Destiny's Childs, SWVs and TLCs of this world largely petered out, a gaping hole has been left in the way of authentic RnB girl groups. Many have tried, but few have come as close to recreating as much the magic as the promising, London-hailing trio FLO.
Made up of members Jorja Douglas, Stella Quaresma and Renée Downer, the charismatic group have been making waves since the immense success of their breakout debut single 'Cardboard Box' last year, and further hallmarked by their crowning as BBC Radio 1 'Sound of 2023' and Rising Star Brit Award win in February, pre-empting an exciting year ahead for the group.
Testament to this whirlwind rise to fame, FLO are currently in the midst of their North American tour and playing at New York's iconic Webster Hall tonight, Wednesday 19 April, following their instantly sold-out first headline show back on home soil a couple of weeks ago, at HERE at Outernet.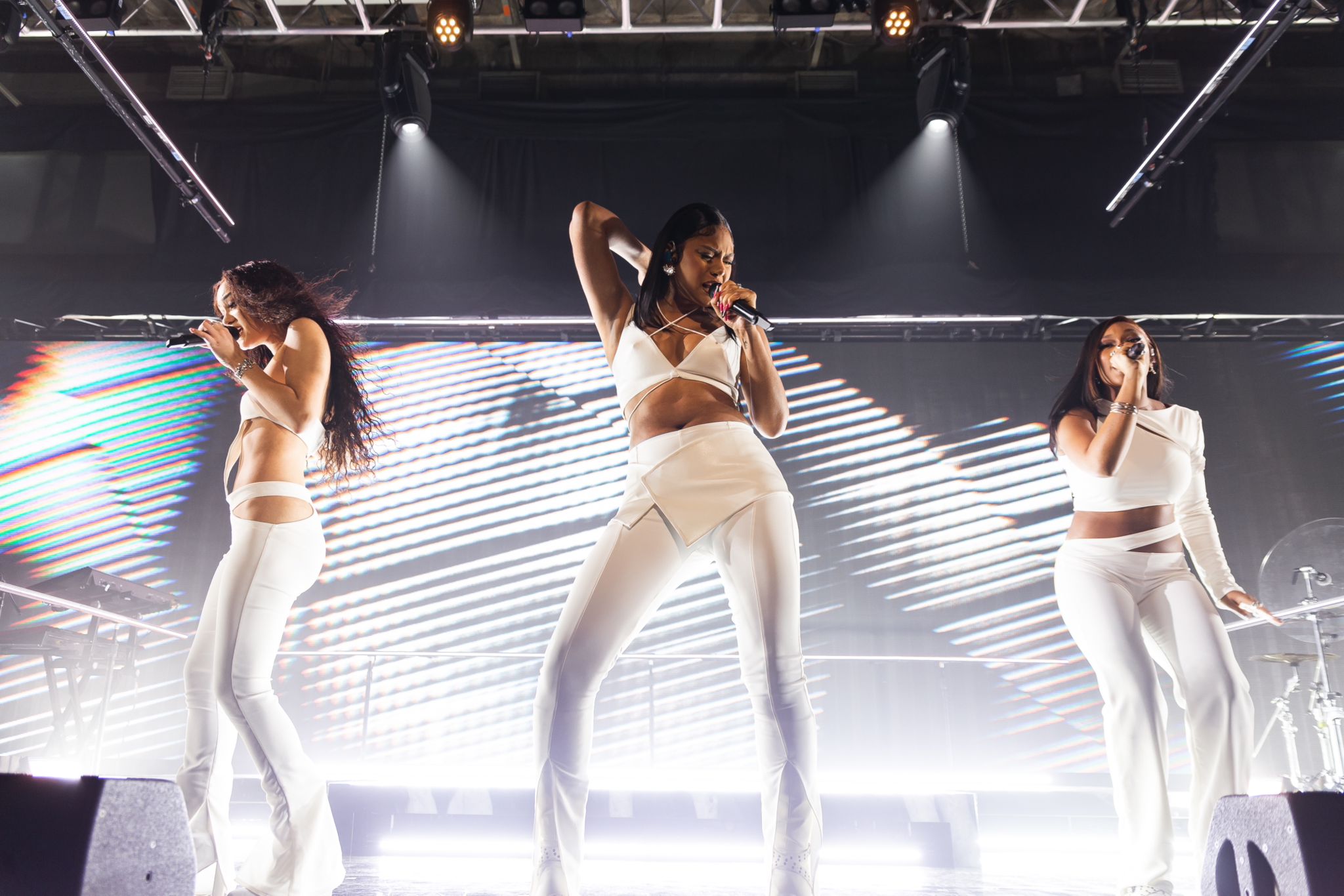 Discussing the run-up to delivering the ultimate FLO experience, Amy Bowerman, the current tour's creative director, reflected on that first show, telling whynow: "With the London show being their absolute first [headline show], when you have an artist at this early stage, they're so excited about what they can do and they just want to get it out there.
"And with there being three artists, they all have these ideas; some that are really grand and some that are simply, 'I want it to feel like this when we're performing this song'."
Brimming with the same energy as every super fan of the band, Amy tells me, "There was no chance I was going to miss this". She would later join 2,000 fellow die-hard FLO stans watching on in awe, as the girls delivered a pristine 45-minute set, backlit by atmospheric floor-to-ceiling screens of sleek graphics and visuals. 
"As a group they are so fun," Amy added, saying one of the main intentions for the show was to ensure "the audience walk away feeling like they've gone to a party, on that high". No doubt everyone left HERE at Outernet feeling much this way.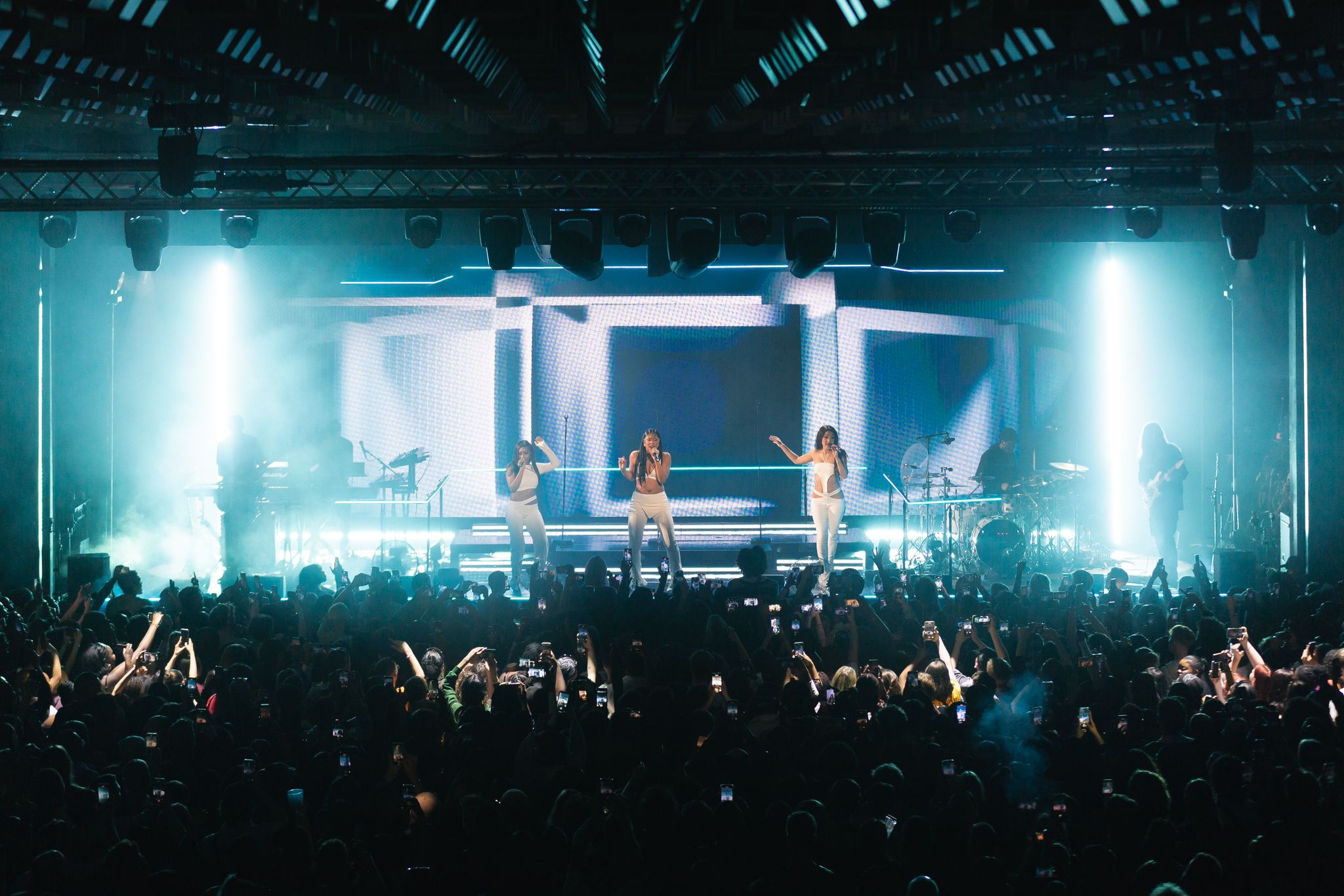 Part of Amy's approach to bringing the show to life includes a sharp focus on all the necessary elements to enhance the artist's star qualities. Speaking on the key tripartite of considerations – vocals, choreography and charisma – Amy stressed, "You want all of these elements but concentrated… The stage helps to be an extension of the artist".
Polishing-off this holy trinity has, in many ways, been the key to FLO's success. The group blend their dreamy harmonies into catchy hooks, predominantly with themes of empowerment and divine femininity, reminiscent of the very best of late nineties and early noughties offerings of the genre. On top of this evident talent, the trio's camaraderie and chemistry resembles that of girl band favourites like Spice Girls and Little Mix.
Though comparison is notoriously known to be the thief of joy, in the case of FLO, they put their fresh contemporary spin on traditional RnB and girl power, whilst basking in the nostalgia of their forerunners. To be shamelessly cliché, FLO deliver the full package.
This essence derives from the trio's their neat manufacturing, with FLO not shying away from the fact they were auditioned and formed through management in the group's infancy.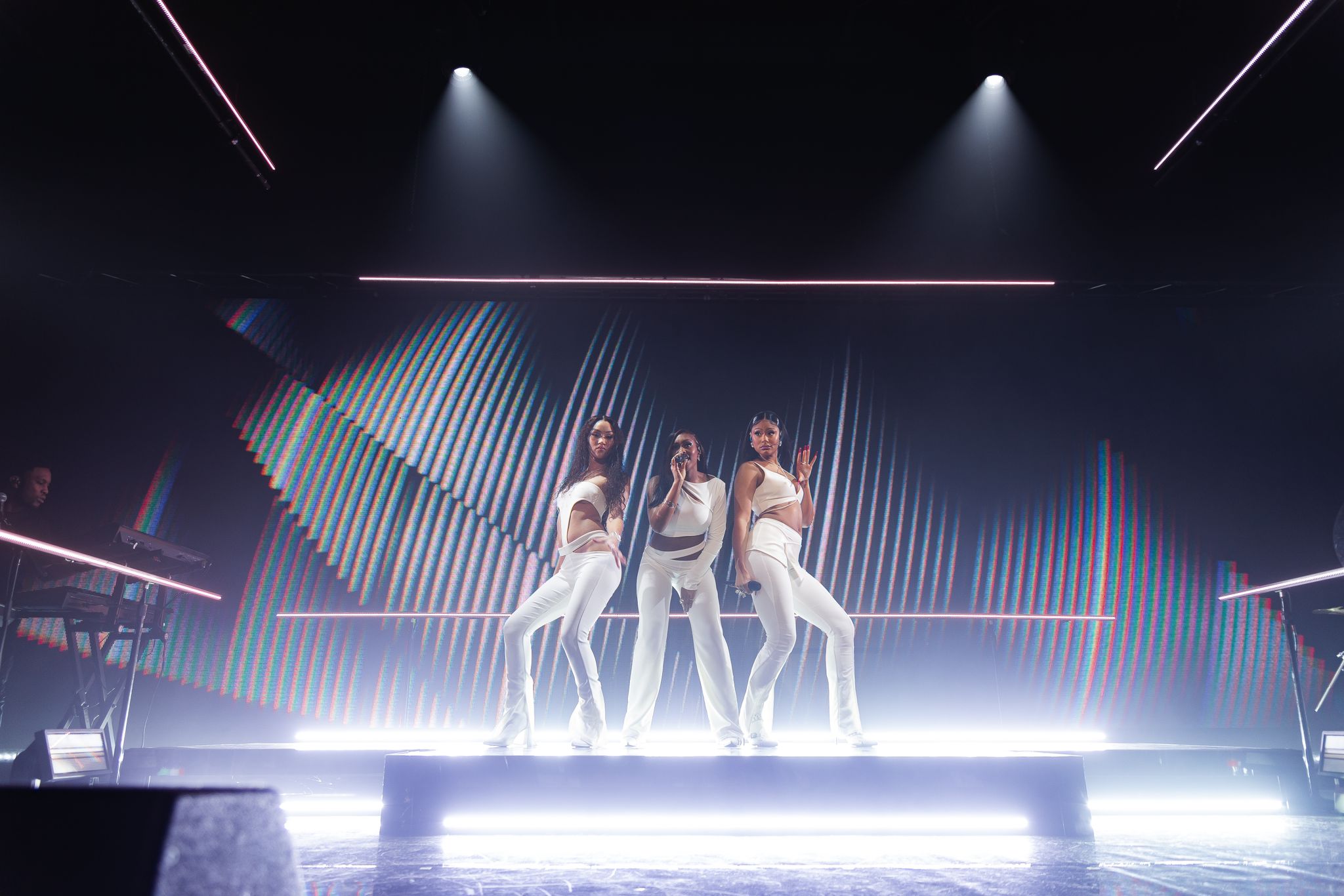 In the same way K-Pop has taken the globe by storm, there is evidently a huge demand for the squeaky-clean pop groups, providing a tried-and-tested, albeit highly demanding, formula.
Amy is familiar with this world, having previously worked with K-Pop pioneers BLACKPINK, as the creative director for the group's mega 'Born Pink World Tour'. What's more, she notes a comparison between these huge current pop shows with the rock shows she watched when she was younger. 
"When I went to shows when I was younger, I used to go to more rock shows and there's an enormous sense of community… The artists and their connection to the audience is huge there. There's an air of showmanship. Take a Rammstein show, for instance, it's absurd. There's the most pyro in the world. It's so theatrical and over the top."
"You look at the other end of the spectrum, and it's kind of the same. You're looking at a K-Pop show that has the same amount of pyro, the same amount of vastness and huge things to play with."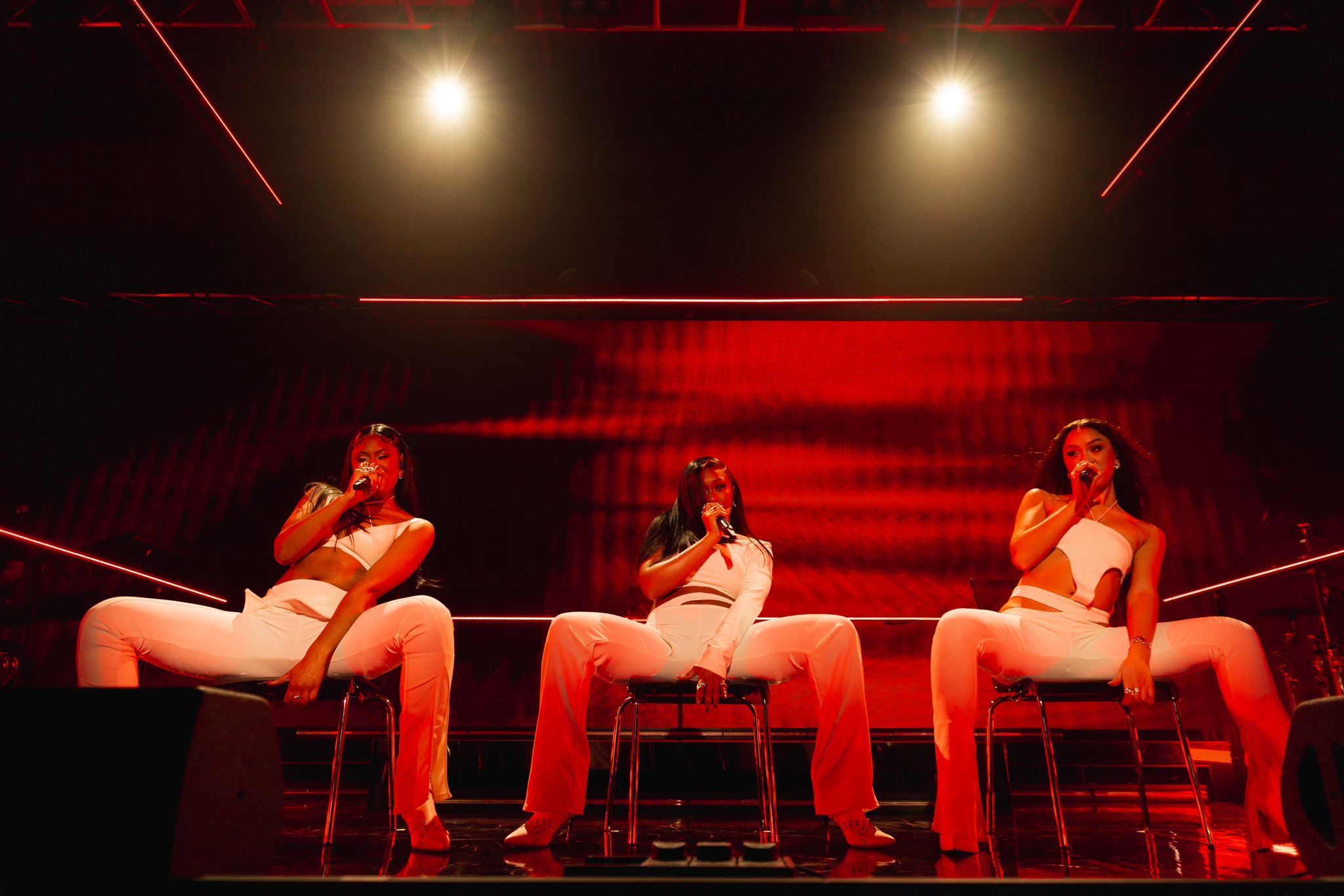 "I love the idea of a show not only being interactive, not only being about the fans, but also about putting on a well-oiled show. You see so many correlations between that and pop shows. For both, you walk away like 'Wow, I've had my face melted off'."
The pandemic also incited a rejuvenation in the use of stage design and performance, given the often-cited, abrupt halting of live shows altogether. A standout example is NPR's Tiny Desk (Home) concert series, for which Amy collaborated with Dua Lipa on her performance.
"Tiny Desk was one of the hardest [shows], to be honest," she says. "Their studio is so iconic, so pared-back, and it's an aesthetic in itself. You had to have a desk in there but then it was about taking that and making it feel more in-line with Dua's record and everything she was doing."
"It's a bittersweet thing now that everyone's back in the studio, which is wonderful, but at the same time the creativity that was coming out around these performances was amazing."
With Dua's Tiny Desk (Home) concert currently championing a whopping 106 millions views, it seems that in the world of post-pandemic music, artist representation has been dramatically pushed in terms of creativity; whether that's marketing through TikTok, or through the highly-curated performances – both online and, now, well and truly back on stage.
Amy is at the forefront of much of this, as she continues to work with prestigious artists. And whilst the London show was a standalone event, Amy is keenly set on continuing to curate and develop the ultimate FLO experience far into the future.
"We've basically got a five-year campaign ready," she tells me. "It's been fun doing a smaller venue with them, but I feel like in the next year or so they will be in giant venues. We have a whole bag of ideas that are arena-ready. I'll stay with FLO for as long as they'll have me."
With the snowballing success of the trio, it's pretty safe to believe in Amy's predictions of grander scale shows on the horizon for FLO. Perhaps these forecasts will come into fruition fairly swiftly after the group's debut album drops later this year. Watch this space – and indeed, watch them live.
---