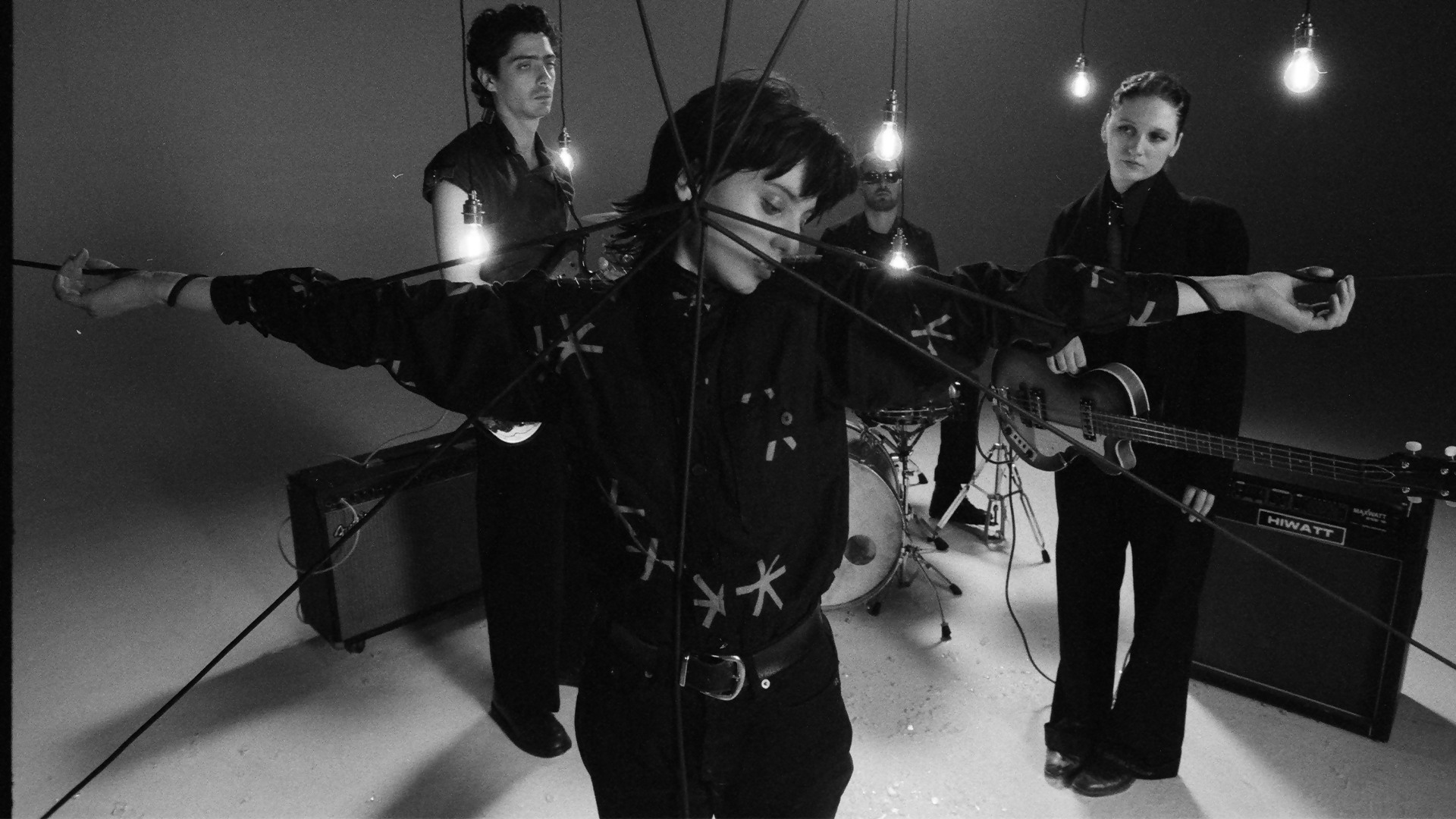 The new track is a devilishly whip-smart offering that sees the rising London artist team up with Speedy Wunderground head honcho Dan Carey on production duties.
'May I Comply' marks the artist's (real name Jojo Orme) first release since her debut EP A Comforting Notion, which arrived in March.
It comes ahead of her biggest headline show to date at Village Underground later this month (21 November), which in turn precedes her support of The Last Dinner Party's much-hyped Roundhouse gig in February next year.
Have a listen to 'May I Comply' via its simple but effective, black-and-white video below.
Speaking about 'May I Comply' and its accompanying video by Gilbert Trejo (who also directed Heartworms' previous video '24 Hours'), Heartworms says: "When I wrote this track I just wanted to get over an ex and to tell my little brother he's good enough… turned out to be a lot darker than I thought."
---
READ MORE: Teeth Machine drop 'Shiny' new single
---
Gilbert Trejo adds: "For 'May I Comply' Jojo and I wanted to lean harder into the stark black and white world that Heartworms is building, washing everything but the band out in a sea of emptiness. 
"Between shooting '24 Hours' and 'May I Comply' I've had the chance to photograph Heartworms on tour and was excited about capturing a bit more of the energy of Jojo's performance at this stage."
What's more, Heartworms has shared news she'll be supporting The Kills on their US tour for 2024, which will follow a few solo dates of her own in UK and Europe.
A track titled 'May I Comply' seems fitting from an artist for whom uniformity plays a key role in her artistic pursuits, with the likes of Interpol, Kraftwerk and the poetry of Ezra Pound among her key inspirations – as is a fascination with military history (she has a volunteering role at The Royal Air Force Museum in Hendon).
She's come a long with since we spoke to her, when she was newly-signed to Speedy Wunderground and told us how manifesting also played a key role in her life, sharing: 
"I believe you are what you think about… You can't just assume things are going to happen for you. You've got to believe it.
"I write little cards of what I want: to be rich enough for my music, to provide for myself and my mother and give each other the best life. I have that card scattered around my room.
"I find it, pick it up, and remind myself that's what I want to do. That's what I want. And I'm working towards it.
"I'm doing what I can and putting all my effort into it. And I feel manifesting is very important for people who want to succeed."
Well, if it's manifesting the release of impressive singles under a prestigious label, or going on tour of the US with a much-celebrated band, then it all seems to have paid off.
See the full forthcoming tour dates for Heartworms below.
21 Nov | Village Underground, London
25 Nov | Festival Les Creatives, Geneva 
30 Nov | EKKO, Utrecht 
1 Dec | Muziekgieterij, Maastricht 
2 Dec | Zeitgeist Festival, Doornroosje, Nijmegen 
3 Dec | HINK Festival, Paard Van Stal, The Hague 
6 Jan | Rockaway Beach, Bognor Regis 
1 Feb | The Roundhouse, London*
27 Feb | Webster Hall, New York
1 Mar | 9:30 Club, Washington DC^
2 Mar | The Orange Peel, Asheville^
4 Mar | Variety Playhouse, Atlanta^
5 Mar | Brooklyn Bowl, Nashville^
7 Mar | House of Blues, Houston^
8 Mar | Stubb's, Austin^
9 Mar | House of Blues, Dallas^
11 Mar | Sunshine, Albuquerque^
12 Mar | The Van Buren, Phoenix^
14 Mar | The Wiltern, Los Angeles^
15 Mar | Ace of Spades, Sacramento^
16 Mar | Fox Theater, Oakland^
*w/ The Last Dinner Party
^w/ The Kills
---