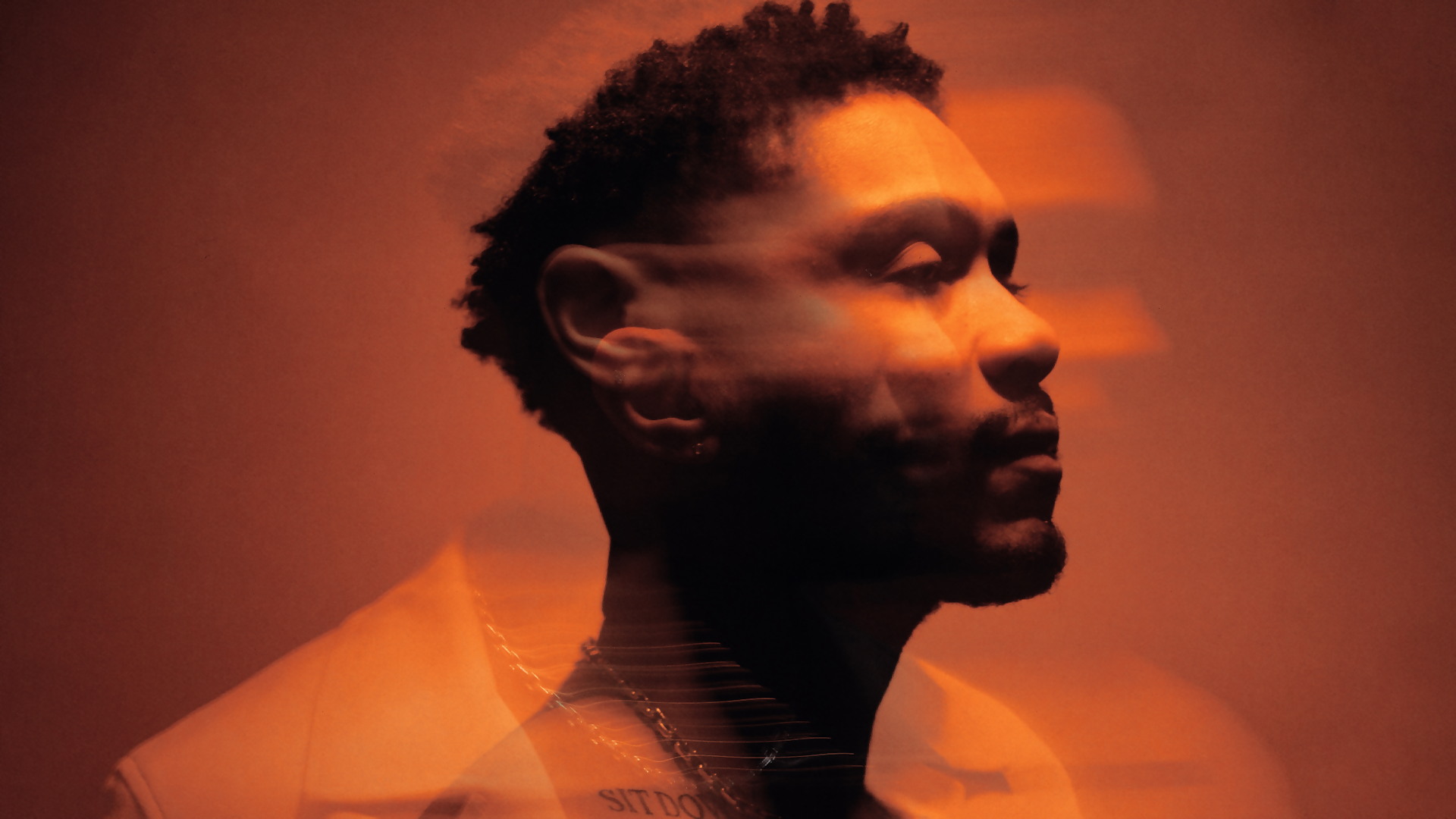 Jelani Blackman is submerged in a mosh pit of his own making. We're in the early hours of the morning and his self-curated edition of Fabric Live — featuring artists like Frozemode, Tiggs Da Author, and Sam Gellaitry — is popping off. Flicking between brooding, grimy crowd favourites like 'Hello' and smoother, afro swing-tinged tracks like 'Rise', he showcases the wide scope of his artistic voice. As the west London rapper, vocalist and multi-instrumentalist guides us through the peak of the evening, what remains consistent throughout is his intense, infectious energy.
"Performing live is the only thing that feels real. Everything else is great, but you're not there — it's a different feeling," says Jelani. It's been three months since that show when we speak, and he's spent most of that time preparing for the release of his debut album, The Heart Of It.
The record documents Jelani's growth into adulthood, exploring his complex interactions with a confusing and unjust society. Sonically, the Ladbroke Grove-raised artist has never squeezed into straightforward genre pockets, but the project's fluid, coherent collection of instrumentals spanning grime, hip-hop, afrobeat and more highlights his progression since the more angst-ridden Rhyme Asylum-esque early EPs, 1-4 and 5-8.
Since those mid-2010s releases, he's been consistently dropping singles and EPs, laying down his smooth baritone vocals on features with artists like Gorillaz, Burna Boy, and Wolf Alice, and even blowing up with an hypnotic COLORS session in 2020. But Jelani's often been reluctant to get too personal in his music, a reticence that has arguably held him back. On The Heart Of It, there's a decisive shift.
We meet on the corner of a Bermondsey industrial estate, in a spot that straddles the divide between artsy London café and old school east end caff. Labourers pop in for cheap fry-ups and teas, but the presence of oat milk, recycled furniture, and a gloomy side-room that hosts parties most nights indicates the subtle trendiness of the place.
---
READ MORE: Karma Kid: 'I wanted to erase my self-doubt on this project and just have some fun'
---
In a way, it's a fitting location, with one of the first things Jelani opens up about being his experiences occupying a liminal space between different social groups. "My positioning in-between different ethnicities and financial situations has left me in a middle ground which is hard to navigate," he says.
"Economically, my mum grew up working-class, and in a lot of ways that's what I come from as well, but she's also educated and there's been an element of economic and social progression. Being mixed race, I'm seen as Black, and nobody would ever call me white – but even my last name, people would make jokes about me not being a "Black man". All those things are quite difficult to reconcile, and I try to get it all into the project."
That might seem like a tall order, but The Heart Of It is packed with both deep emotional and personal exploration and intelligent social and political commentary, often seamlessly intertwined. On 'My Bad', against the kind of murky, violin-led production you might have heard cult UK hip-hop merchant Jehst spitting on in the early 2000s, Jelani raps: "It's hard to trust when the world don't trust you / Looking at my hands in your bag like "fuck you"."
Meanwhile, 'Line Up' is a powerful meditation on the deeply ingrained prejudices encountered by Black British men, framed by Jelani's experiences of being banned by his school from wearing his hair in canerows.
"I don't listen to 'Line Up' too much, because it's dense, and it's hard to listen to," he says. "That's one of the things that came up during 'Black Lives Matter': everyone wanted to have that conversation, but a lot of Black people were like, 'This is trauma'; it's all well and good that you want to engage with the trauma, but actually, it takes something different out of you to do it."
Besides that sense of fatigue, he also experiences a continuous feeling of anger at society ("I'm in stasis, but I'm always angry, and my outrage is consistent," he says), and a frustration that the relentless global news cycle means people don't always give complex social issues the thought and time they require. While he knew he had to pick and choose what subjects he could tackle on The Heart Of It, Jelani was determined to create authentic, articulate songs, rather than just rapping about parties or "good vibes".
View this post on Instagram
On the soft, soulful album opener 'Feel The Same', he criticises the current status quo and raps "Run the country if I could… I be telling them it's justice over everything." Later on, he imagines a radical alternative on 'New World Order', spitting "No one gets stopped at the border / Fuck getting stopped on my corner." When I ask Jelani what he'd do if handed control of the country, his answer isn't entirely what I was expecting.
"I'd be a benevolent dictator," he says. "I'd unilaterally change all of the democratic systems that are set up now, because I don't think they work. If you have a democracy, you have a lot of people who are ill-informed making decisions; you've got people who are greedy who make decisions, then you have a lot of people who should vote that don't, so there's an imbalance. The flaw in the system is that anybody who would want to be in that position inherently would have a couple issues, because absolute power corrupts – that will always be an issue."
---
READ MORE: The Big Moon: 'You want music that allows you to feel seen and not alone'
---
Brushing quickly past constitutional changes to get to "the heart of it" (that phrase comes up several times during our conversation, unrelated to the album), he soon emphasises the value he'd place on education. 
"I would make education the focus of all society. I would fund it properly, fund the people that do it properly, and make sure the curriculum represented things that people should actually learn: how money works, where money is… and understanding what makes you tick. Then, over ten years, the whole of society would change."
As he runs through this vision, it's clear Jelani has spent a lot of time in quiet reflection, considering his place in the world. He points to the Covid-19 lockdowns and a recent breakup as being key in prompting him to look inward and understand himself better. More than anything else, The Heart Of It is a documentation of that journey.
"It was hard for me to connect with a certain side of myself, because there were a lot of things I hadn't addressed personally," he says. "I was being angry as opposed to having the feeling and being able to dissect the feeling. I moved past that a little while ago, which opened me up into being an adult. I was ready to talk in a different way, with more clarity and understanding."
"Most men are destined to fail because they aren't given the language or opportunities to express themselves," he continues. "I'm pretty lucky that my mum is really emotionally intelligent and has always taught me emotional literacy, so I can talk about it, but I think that's different to being in it, as a feeling. I don't think there's ever been a moment where I've really had a grasp of what the feeling is of being in control."
The control comes, it seems, when he steps on stage. "Grime culture taught me energy," he says. "It taught me why performance is important, and it taught me to love it. That stuff is essential, and it's my foundation. Seeing the reaction, feeling it, and knowing how to control that energy, that's what I love."
Grime's spark and spontaneity is what Jelani grew up on, so it makes sense that he replicates this energy when playing live; he's rumoured to very rarely put together a setlist, preferring to bounce off the crowd and make spur-of-the-moment decisions about what to play next.
However, the landmark release of The Heart Of It suggests a subtle change in direction. For the first time, he's putting together what he describes as an "actual show… an experience that I've already mapped out" that represents "a step up". Translating the coherence, the emotional substance, and the structure of his debut album into a live format is evidently a task that requires serious thought. Make no mistake, Jelani Blackman will pour his heart into it.
The Heart Of It is out Friday, 10 November via 18 Records / MNRK UK.
---