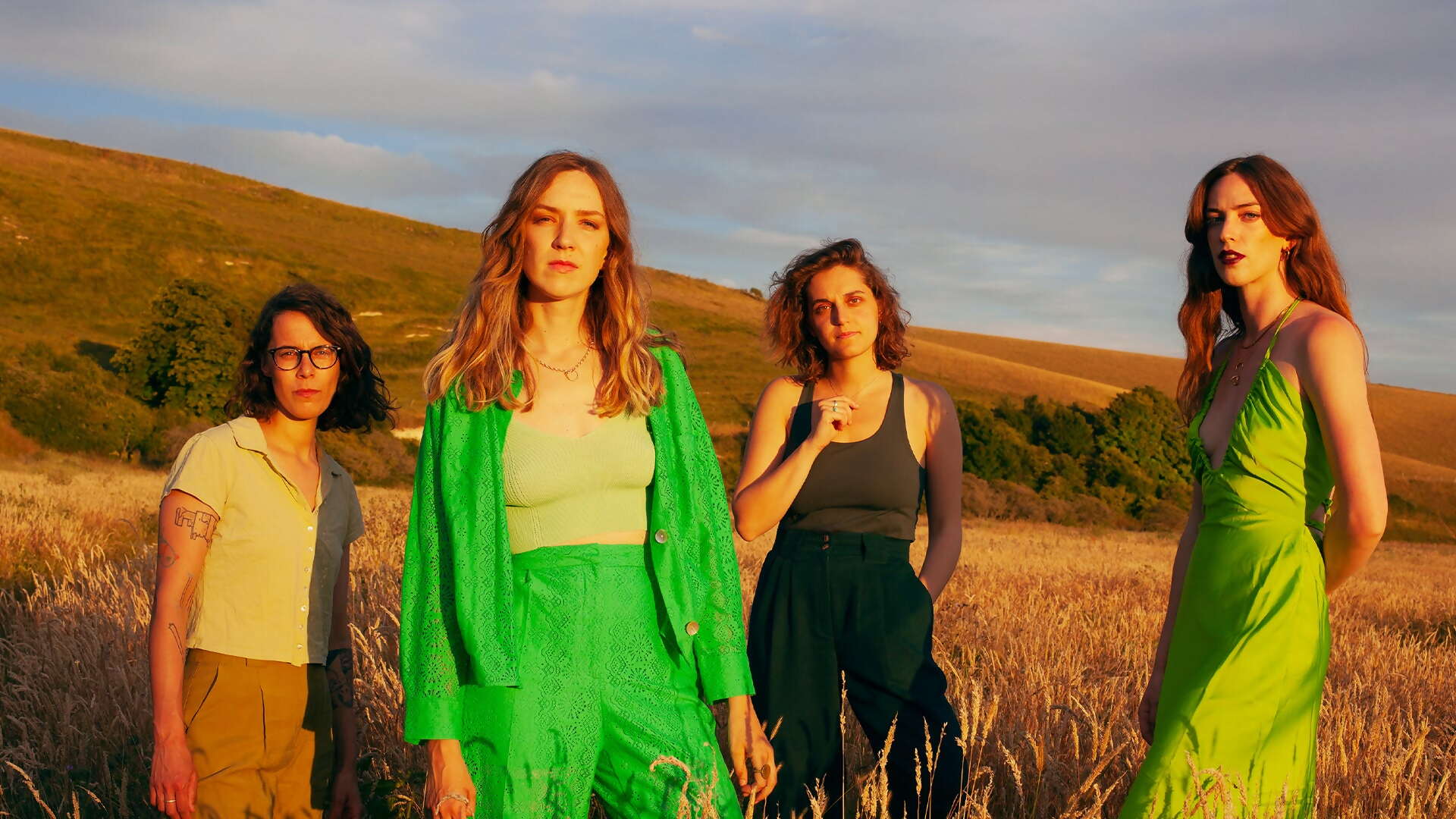 "The whole point of music is to feel part of something," says Fern Ford. It's what The Big Moon does perfectly. Their fizzying debut album Love In The 4th Dimension dealt with young love, sisterhood and a reckless lust for life while follow-up Walking Like We Do found euphoria despite a coming-of-age angst. Relatable lyrics and buoyant guitar were delivered with a knowing grin. Released last year, their third album Here Is Everything is wiser, but no less joyous.
"I really enjoyed making it but fuck, it was hard," says Fern with the album "completely" changing over the course of the twelve-month-long recording process. The band were at the start of a hectic touring cycle for Walking Like We Do when COVID-19 forced them back home. After slowly trading ideas back and forth over Zoom and getting second jobs to pay their rent, the band (drummer Fern, vocalist Jules Jackson, guitarists Soph Nathan and Celia Archer) finally managed to get into a studio together to make their planned third album.
The Big Moon have always followed their gut but there was something about this first batch of songs that didn't feel right. "We had to ask ourselves 'why aren't we dancing at this bit, why aren't we crying here, why doesn't this bit feel euphoric," says Celia. "We know when something is right and it just wasn't."
"We just didn't like it," says Fern. At first no one wanted to voice their concerns, worried they'd shatter the illusion, but it turned out everyone was on the same page. A break followed, during which Jules gave birth and wrote four new songs, while Fern set about creating a home studio. When the band reconvened, the mood shifted from "oh fuck" to "We got this."
"There was pressure that came with us self-producing the record especially after telling the record label that we'd spent their money but didn't like the results," admits Fern, with producers CECIL and Ben Allen helping them out. "At the same time, it was less pressure than getting someone else in who may or may not help things. We just had the space, time and patience with ourselves to ask 'what aren't we feeling with this song' and address it. It was on us to fix it, which was kind of luxurious in a weird way."
---
READ MORE: HotWax: 'We've gotten a taste of doing the band full time, now we never want it to end'
---
"The industry we're in, there's not a lot of money and there's even less time," adds Celia. "You're conscious that you only have so much time in the studio and you're aware how much each day is costing you. At Fern's, it was amazing to just be in this space where we could explore things in more detail. There were times that felt like how I always imagined making music could be," with the resulting record more expansive, more ambitious than previous albums.
Here Is Everything opens with the slow-burning fire of '2 Lines', which Jules wrote about the early stages of her pregnancy, and across the album's 11 tracks she explores wide-eyed daydreaming and post-natal depression with lashing of terror, panic, and love. "Jules went to really deep places with this album. It's incredibly brave, vulnerable, and generous to do what she did lyrically," says Celia, though the album hits wider than that. "When you write something so personal and so specific it connects, even if that's not your exact experience," she continues. "That's just what good art does."
"I think the problem at first was the massive disconnect between the music we were listening to, and what Jules was saying. The reason the album feels big now is because all of us were determined to correct that," continues Fern with Celia adding "We wanted to hold Jules in that space of vulnerability and do the songs justice."
It's where that undeniable warmth comes from that inhabits every corner of Here Is Everything. "You want music that allows you to feel seen and you want music that makes you feel not alone," says Fern.
Out now is The Big Moon's deluxe edition of Here Is Everything, featuring live renditions, remixes by Marika Hackman and Art School Girlfriend as well as two new tracks: 'Summer Still Comes' and 'Round Forever'.
"We just wanted it all really," grins Fern. "When you do an album, you've only got so much space on a vinyl so you do get left with lots of extra ideas and things you want to do. It's a nice way to splash out a little and give people all that extra shit."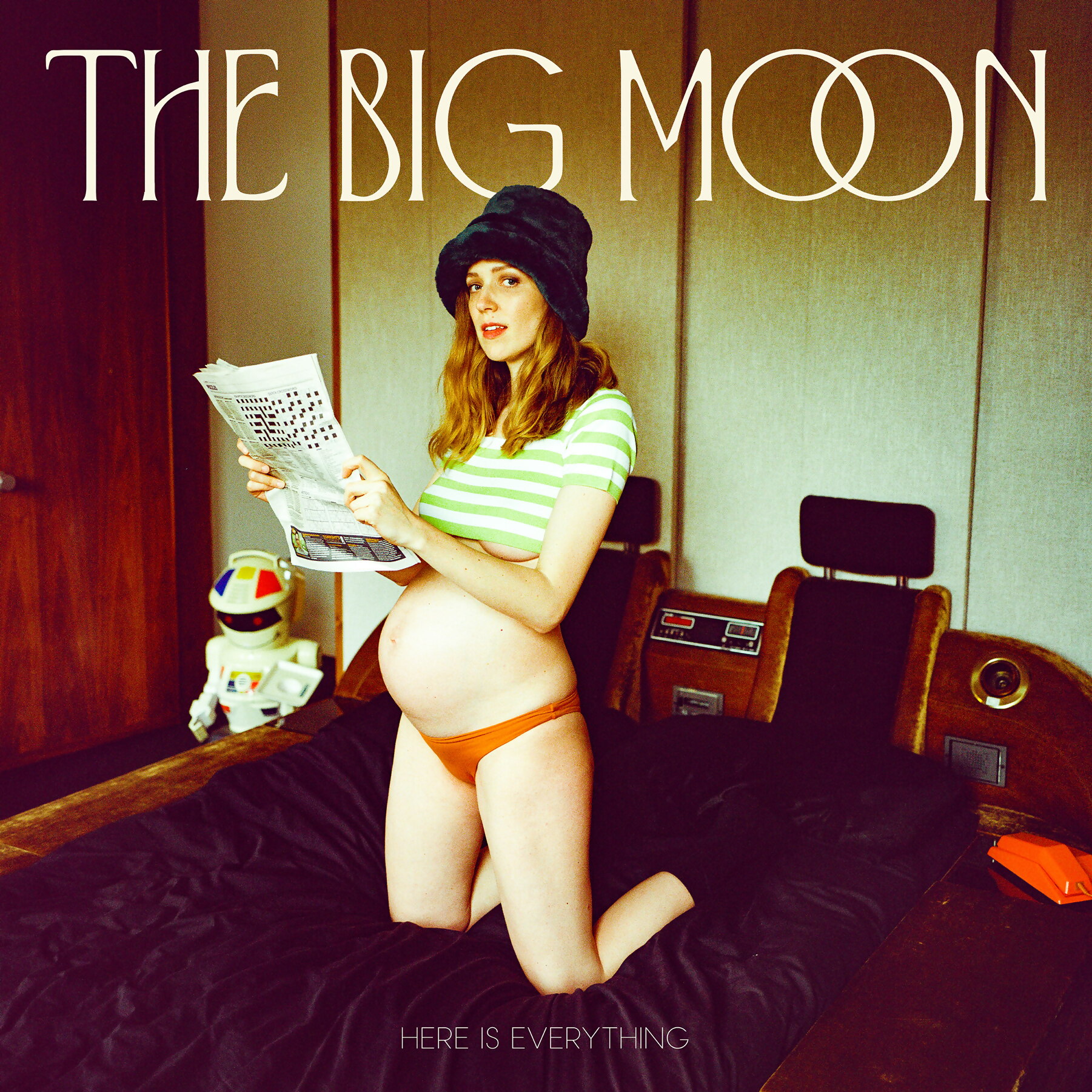 "It's fun to be in a place now where we can give songs we've spent hours poring over to somebody else and say 'what do you think we should have done? What bits do you find interesting?' It was really great hearing what Marika and Polly did with those tracks, music's so malleable and their brains are amazing, but I don't know how I would have felt about it last year," admits Celia.
As for the new tracks, 'Summer Still Come's is a blossoming, heartfelt song about longing for friends and loved ones while 'Round Forever' sees Celia take lead vocals for the first time.
---
READ MORE: Ethan P. Flynn: 'I really made this album for people that are like me'
---
The original idea for 'Round Forever' came within the first batch of tracks Jules created for the record. After crafting songs over Zoom for 8 months, she'd deliberately left enough space for the rest of the band to play in and when they were finally able to get together in a makeshift studio and rehearsal space for pre-production in the winter of 2021, The Big Moon started experimenting. 
"We're not the sort of band who typically jams but we were working on this song and I felt like we were Warpaint," says Celia. "It was loads of fun, but Jules didn't know where to take the song next. It was going to get scrapped but I didn't want it to die, so I wrote the rest of it. It's about going round in your own head and how boring and draining that can be."
The Big Moon are aware of how tough things can get, but constantly turn towards optimism. There's no cynicism in their music, which is surprising because the journey to Here Is Everything was anything but easy.  The pandemic cut short their touring plans for Walking Like We Do, which included a dream-come-true-gig at London's Royal Albert Hall, while the making of the actual record was full of curveballs. "Every month, the world was changing," says Celia. 
Even with the album done, a string of celebratory in-store gigs were overshadowed by their gear getting stuck in Spain after a festival performance. "That was really difficult," admits Fern, with the band forced to take to social media to ask to borrow equipment. "The thing was, we played that first show in Sheffield without our usual set-up and nobody gave a shit that the tone was different or that all those extra little flourishes weren't there. The thing they really cared about was being in that space with us, and connecting to the music. It's easy to be joyful in those sorts of spaces."
"It helped that Jules had written these hopeful, incredible songs," adds Celia, with the live show offering the band a place to pour out their feelings of anger, frustration and anxiety. "You're onstage and you're yelling, being loud, and being this version of yourself that you're not allowed to be in real life," she continues.
Since then, The Big Moon have been on a jubilant victory lap. They played their biggest ever headline show at London's Roundhouse, while a hectic festival season included a massive, celebratory performance on Glastonbury's Woodsie stage.
"It's just been really fun," says Fern. "When you're onstage, you're not thinking about the feelings behind the songs, you're just feeling the feelings. It's a release. When you're making music, you're hoping it connects with people but to see that in real time is magic. It creates a sense of freedom, for us and for them, which is pretty lovely."
"Any music you make, any music you listen to, you want to see yourself in it. You want to feel like you're not alone," she adds.
---
READ MORE: Debbie: 'I realised I am very insecure'
---
Following that, the band went out on a three-week tour in support of independent venues. "It feels like they're all slowly being knocked down for luxury flats, and we've always been so grateful to have those spaces where we could just try shit out when we first started out as a band," says Fern. "You can't go from the rehearsal room to playing an academy-size venue. It's bullshit. We all need those smaller, independent venues."
The end is in sight for the Here Is Everything cycle, with the band planning a break next year. "Who knows how long that'll actually last though," says Celia. There's still plenty of fun stuff before that, however.
The Big Moon are set to play their first shows in North America in six years ahead of their first proper UK headline tour for this era. It'll all be rounded out by a special gig at London's Union Chapel the week before Christmas.
"It's going to be cosy," promises Fern, though the band are keeping any potential festive covers under wraps for now. "We still need to rehearse them," laughs Celia as Fern adds: "Still, I think I'd ask for my money back if I went to a Big Moon Christmas show and there weren't any sleigh bells."
---