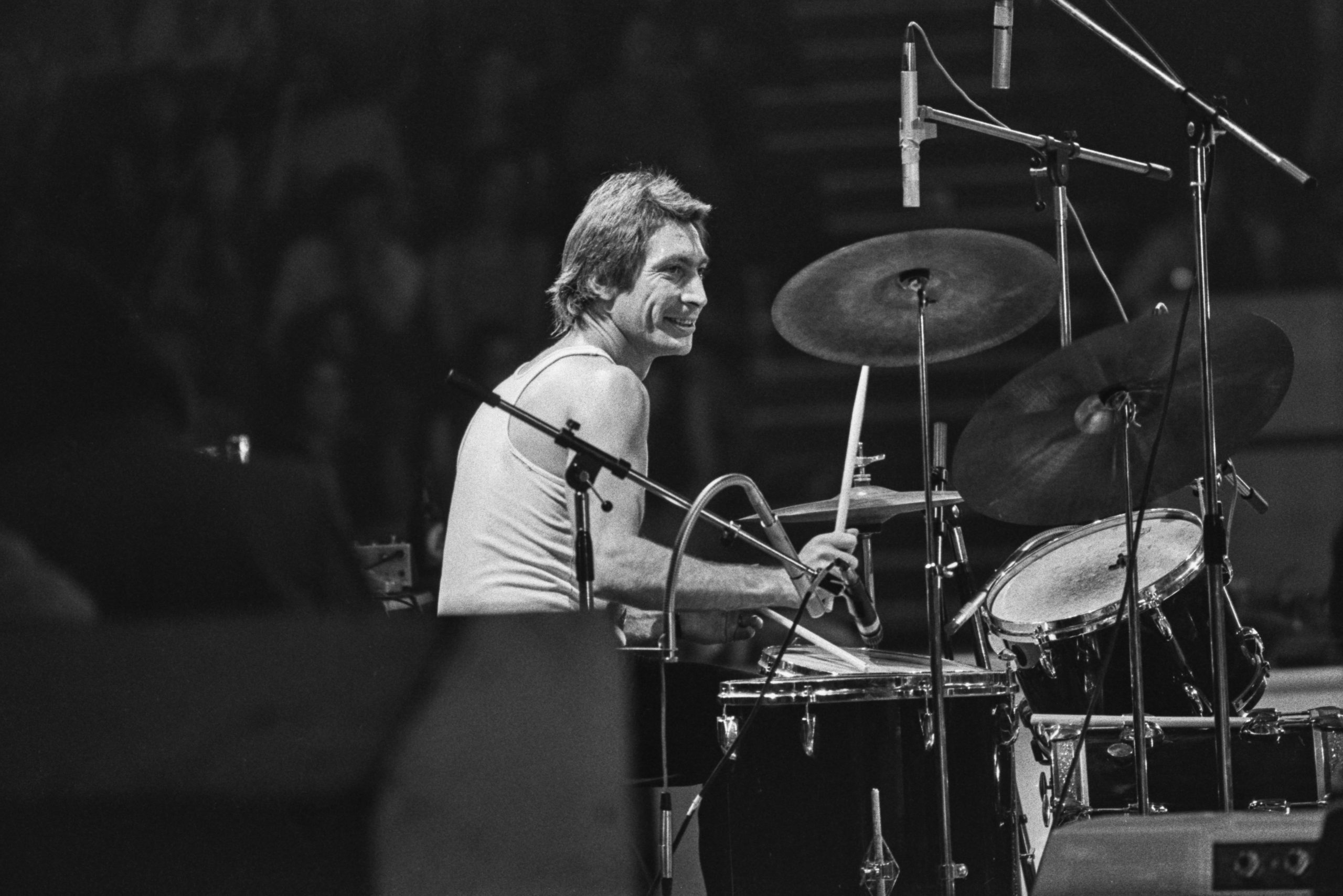 Marc Baker, the veteran arts journalist and lifelong Rolling Stones fan, remembers the 'Wembley Whammer'.
Tonight, it's hard to imagine The Rolling Stones, or indeed the world of music, without the wonderfully talented Charlie Watts.
He was the fixture and fittings of the band our parents told us never to listen to. But we did.
In fact, Mr Watts was The Rolling Stones.
For many of us of a certain generation, he was a beat we all followed
Guitarist Keith Richards always testified, "Charlie is the beat I listen to when I play the guitar. His drum pedal kick hole in the drum kit is the only thing I see when I'm on stage. He is the only beat that I follow."
And for many of us of a certain generation, he was a beat we all followed when it came to putting on a Stones record.
Unassumingly shy but tailored by the best in Savile Row, Charlie Watts was the best of the best. The drummer's drummer. The Stone's Stone.
Known affectionately and introduced many times on stage by Mick as the "Wembley Whammer" he shied away from the fame, money and the limelight and will be deeply missed by Stones fans around the world who lived for those rare moments we got to see them play live.
If you were there, you know there is nothing like it.
And live they were. The moment the crowd got a glimpse of Charlie take his seat at the drumkit and turn his famous shop sign from "Closed" to "Open" and heard the exhilarating introduction of "Ladies and gentlemen, The Rolling Stones" there was simply no other worldly feeling like it. Nobody else plays that loud.
Despite preferring to take a back seat, he was always heard very loud and very clear
And despite Charlie always preferring to take a back seat, he was always heard very loud and very clear.
Damn this will be a hard act to follow by Steve Jordan when the band resume their No Filter tour in the States next month. They will be magnificent as ever, but one thing will be missing.
His absence will leave a giant hole in The Rolling Stones and fans will find it hard to contain their tears on that opening night at the St Louis Dome on September 26. US travel restrictions allowing, I'll be there.
Sadly, like with everything in life, nothing lasts forever. We all think our idols and close family members are invincible and will be with us for a lifetime. But let's tonight remind ourselves we are not immortal.
So maybe then the last words do belong to Charlie.
Luckily, I have been fortunate to see them play all over the world and even got to party and hang out with them many times as a journalist – something I never thought would dream possible growing up and collecting their vinyl whilst growing up in North Wales.
Charlie always saw any gig as his last
Back in 2016, when the Stones opened their Exhibitionism show at The Saatchi Gallery on the King's Road, Charlie cheekily summed up the lucrative nature of the Stones. When asked what the best part of the exhibition was, he meekly replied: "People paying at the door."
And when asked if the band would be able to pull off their impossible dream and play forever, he said "It seems that way doesn't it? Whether I agree with it…. It seems to be that way."
Charlie always saw any gig as his last and unlike the band he was never one to plan too much for the future.
And tonight, as the band look ahead and plan without their founding father for their 60th anniversary next year – a spectacle that may take them around the world one last time – there is one quote from Charlie that is quite haunting.
On that same balmy night at the Saatchi, I remember fondly Charlie being asked if he was looking ahead to their band's 60th anniversary celebrations – a feat that has taken them a long way from their humble beginnings from their one-bedroom flat in Edith Grove, Chelsea.
And on that night, Charlie – the man of very few words – perhaps uttered his wisest: "The 60th anniversary? I'll be 80 then!"
Goodnight Charlie. We will all miss you.
#God bless Charlie Watts we're going to miss you man peace and love to the family Ringo 😎✌️🌟❤️🌈🎶☮️ pic.twitter.com/3tSFg7EMQG

— #RingoStarr (@ringostarrmusic) August 24, 2021
Aside from being a unique musician Charlie Watts managed to remain completely classy throughout the whole of the Rolling Stones career. Quite an achievement. #charliewatts

— Johnny Marr (@Johnny_Marr) August 24, 2021
Paul on Charlie Watts ❤️ pic.twitter.com/rn2elK6cFE

— Paul McCartney (@PaulMcCartney) August 24, 2021
So sorry to hear the very sad news of Charlie Watts passing. He was such a nice guy and a major influence in the music business – he'll be sadly missed. My deepest condolences to his family and to Mick, Ronnie, Keith and all his friends and fans. R.I.P.

Tony pic.twitter.com/62veFSUjoz

— Tony Iommi (@tonyiommi) August 24, 2021
---